So you've done the Red Centre icons – Uluru, Kata Tjuta and spectacular Kings Canyon – what next? Whether you're keen for adventure, looking to relax, on a budget or ready to splurge, discover our top picks for unique Red Centre experiences that will promise to fulfil your expectations.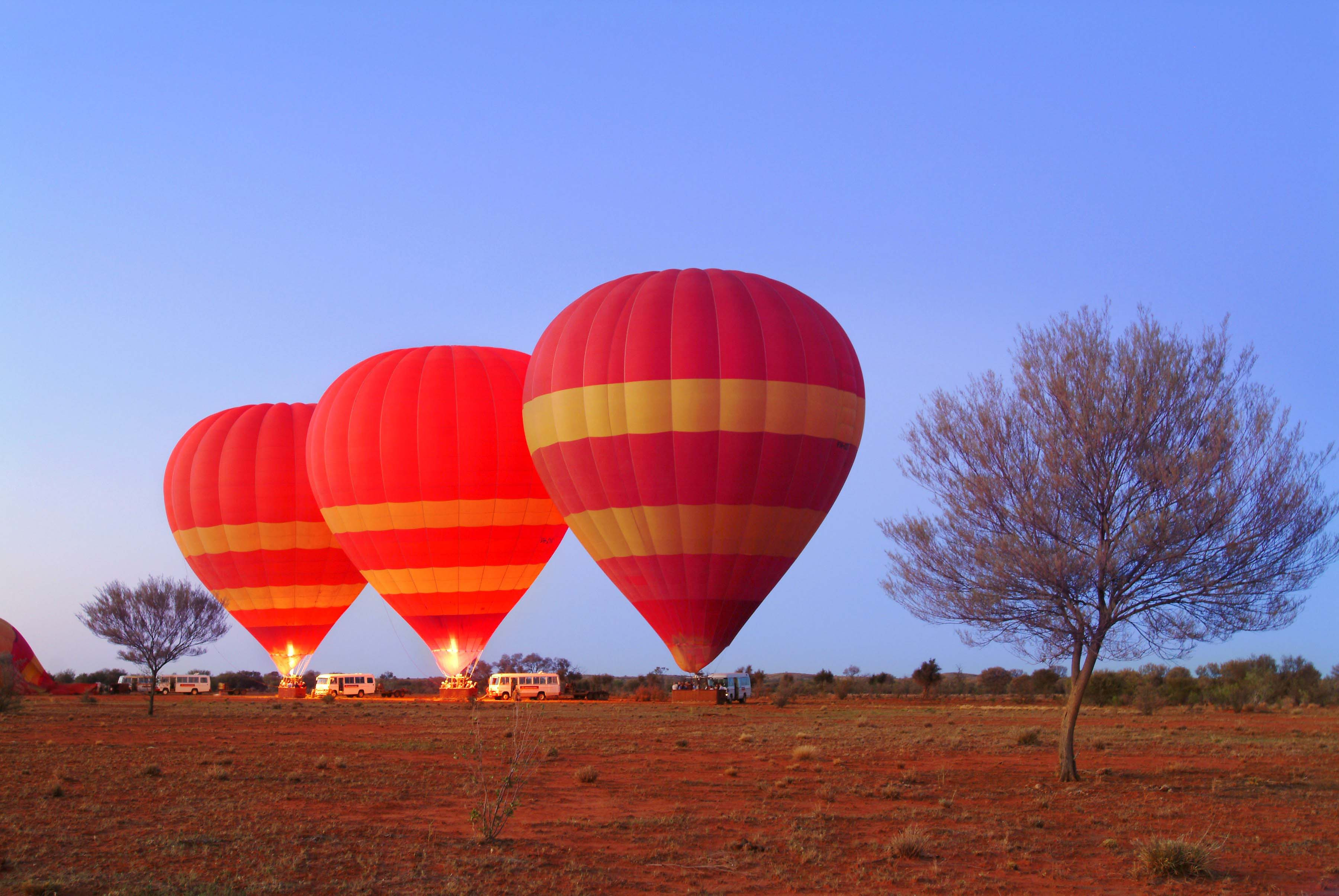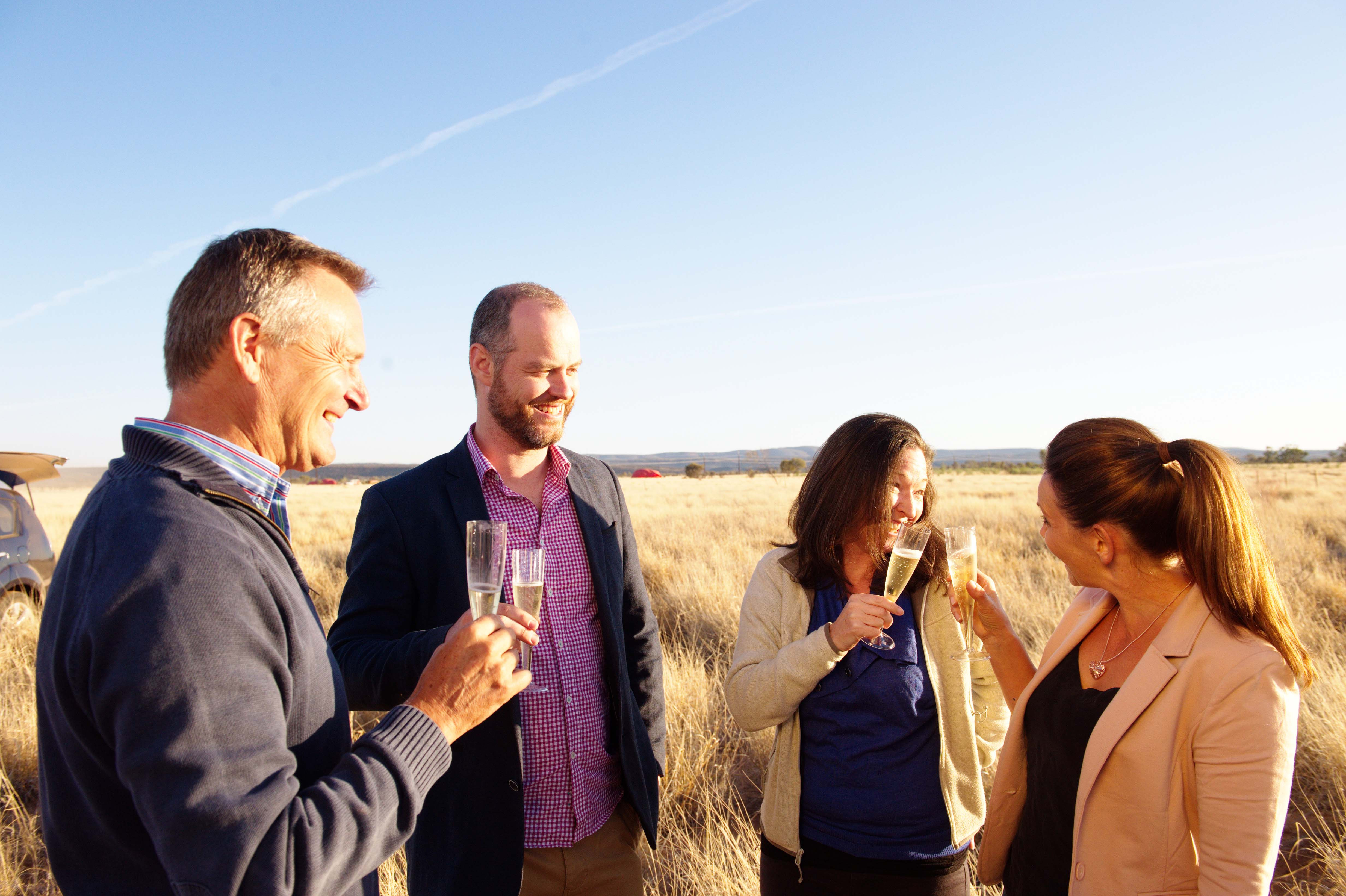 Hot Air Ballooning
Outback Ballooning offer the incredible experience of floating over Alice Springs with the MacDonnell Range being illuminated in the distance as the sun rises. There's no better way to see the outback than 1,000 feet up, floating silently above the desert. Complete with sparkling wine and light refreshments, this experience is worth every minute of the early start to the day! Operates daily, weather permitting.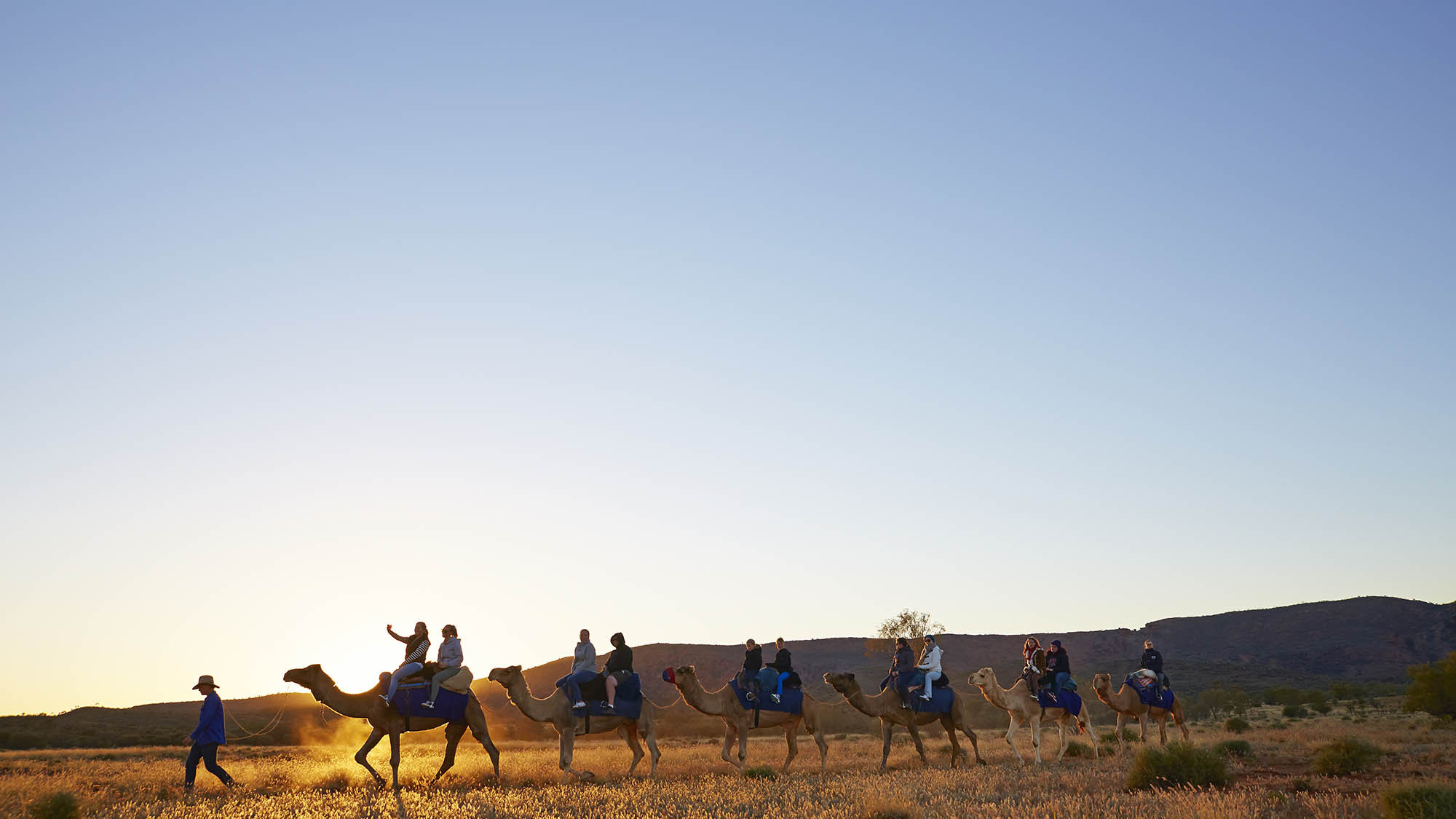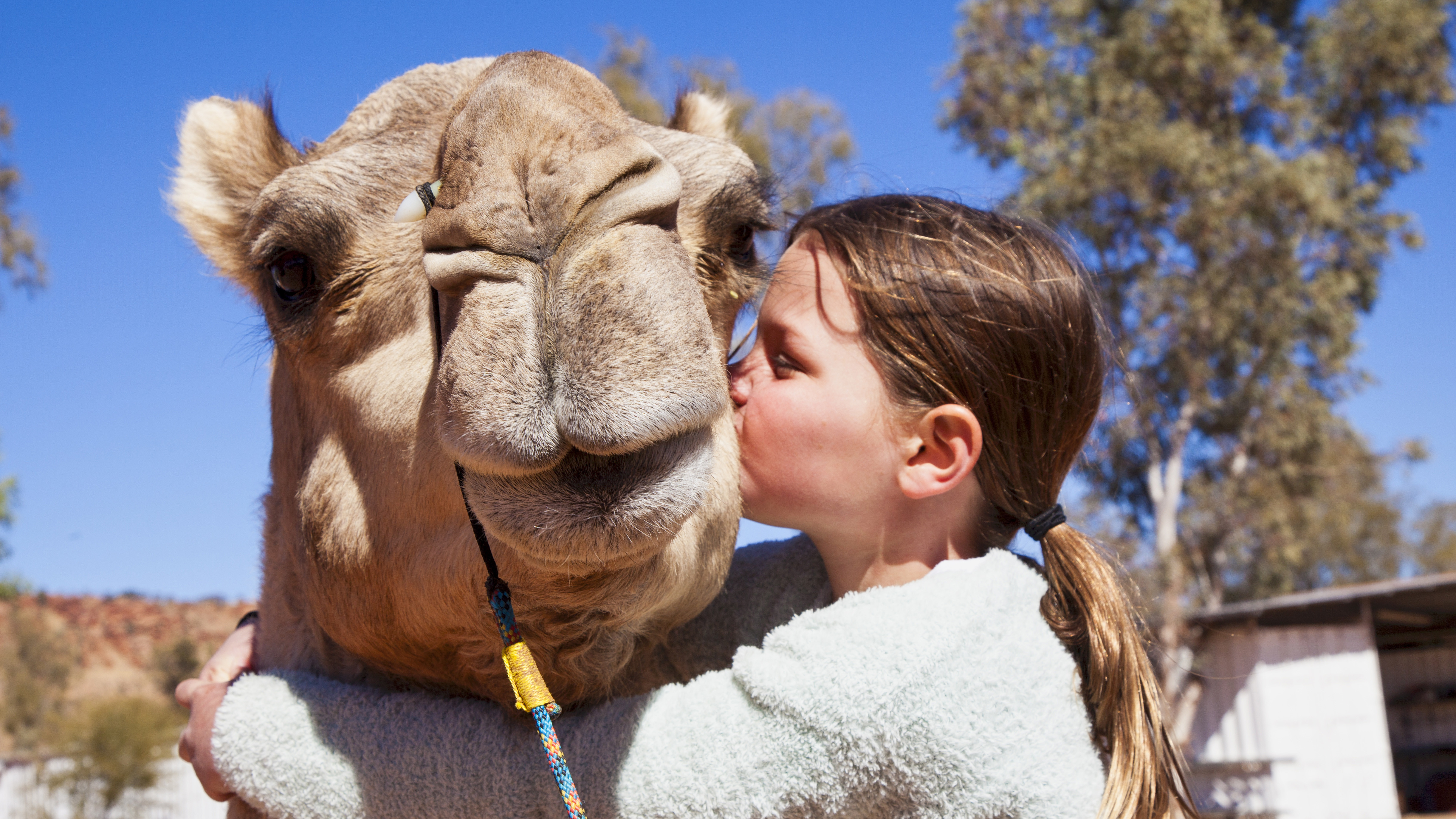 Sunrise or Sunset Camel Ride
There is something nomadic in meandering across the red desert landscape on the back of one of the world's earliest forms of transport. With Camel rides offered in both Alice Springs and Uluru, you can watch the desert come to life as the sun rises, or watch it transform as desert colours change and deepen while the sun sets. A perfect start or conclusion to your day. Operates daily, with some seasonal validity.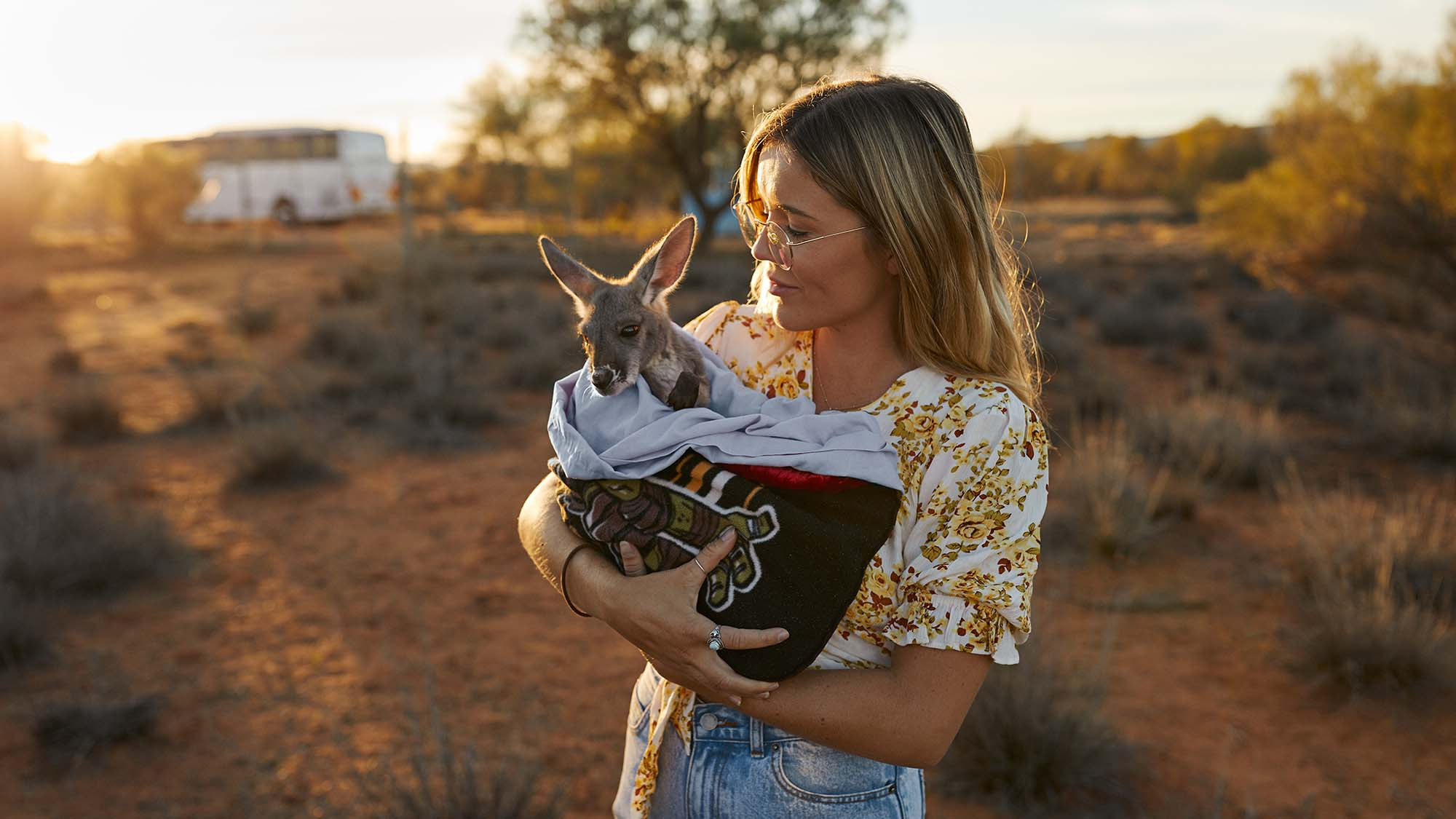 The Kangaroo Sanctuary
A celebration of the iconic Australian Red Kangaroos. Located just outside of Alice Springs, The Kangaroo Sanctuary promote a guided sunset tour in the late afternoon where you can hand-feed orphaned joeys. This isn't your regular wildlife park visit, but rather a deep insight of these beautiful native animals and their transformations from rescue. Chris 'Brolga' Barns takes you on a tour through the peaceful 188 acre wildlife reserve as he shares his passion and knowledge of the orphaned kangaroos and other wildlife. A unique experience not be missed, The Kangaroo Sanctuary is open seasonally and pre-booking is required.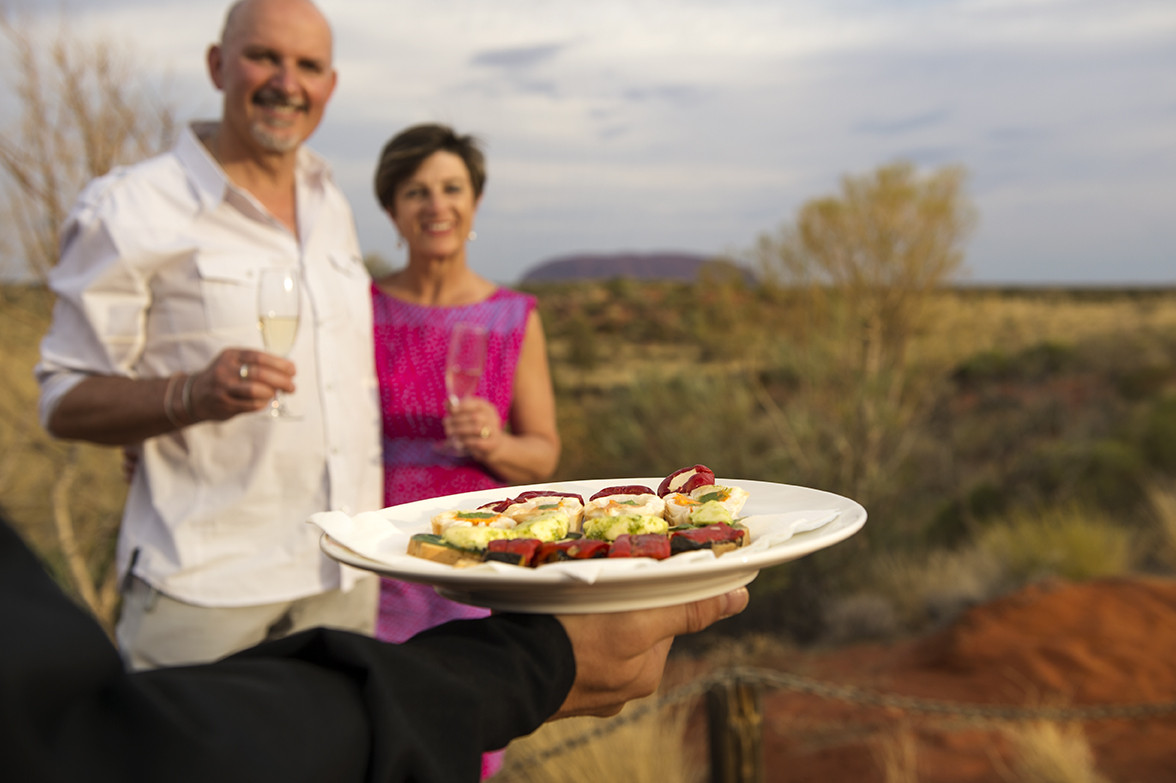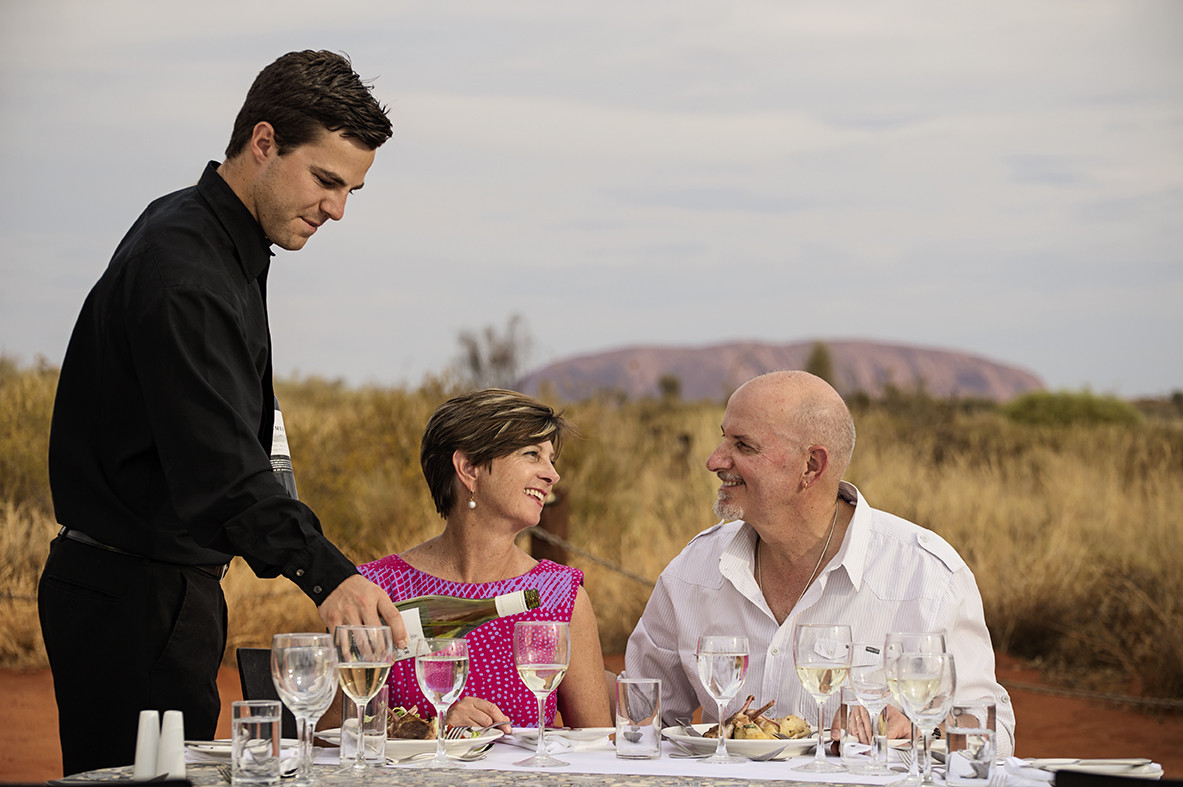 Unforgettable open-air dining
The Sounds of Silence, with the magical Uluru-Kata Tjuta National Park as the backdrop, is a 3-course, bush tucker inspired buffet menu incorporating native ingredients complemented by some of Australia's finest wines. With canapés and sparkling wine to start, indulge under the outback sky as you are serenaded by the sounds of the didgeridoo performance and guided through the starry night sky by a resident star talker. Available daily, year-round and bookings are essential.
The lesser known but by no means less incredible, Under a Desert Moon in Kings Canyon, is an elegant five-course degustation dinner beginning with canapés and a glass of sparkling wine followed by dinner in a hidden location under a canopy of stars and, of course, desert moon. A warming fire flickers nearby as you dine through five courses of seasonal, locally sourced produce with paired wines featuring unique native herbs. Under a Desert Moon operates from May to October from 6pm every Monday, Wednesday, Friday and Saturday. Bookings are essential.
A fine dining experience located at a remote southern dune with 360 degree views of of the desert including the Kata Tjuta and Uluru in the distance is the intimate Tali Wiru. Meaning 'beautiful dune' in the local Anangu language it is a native ingredient infused four course menu and canapes under the stars and a gastronomic experience like nothing else. Operates seasonally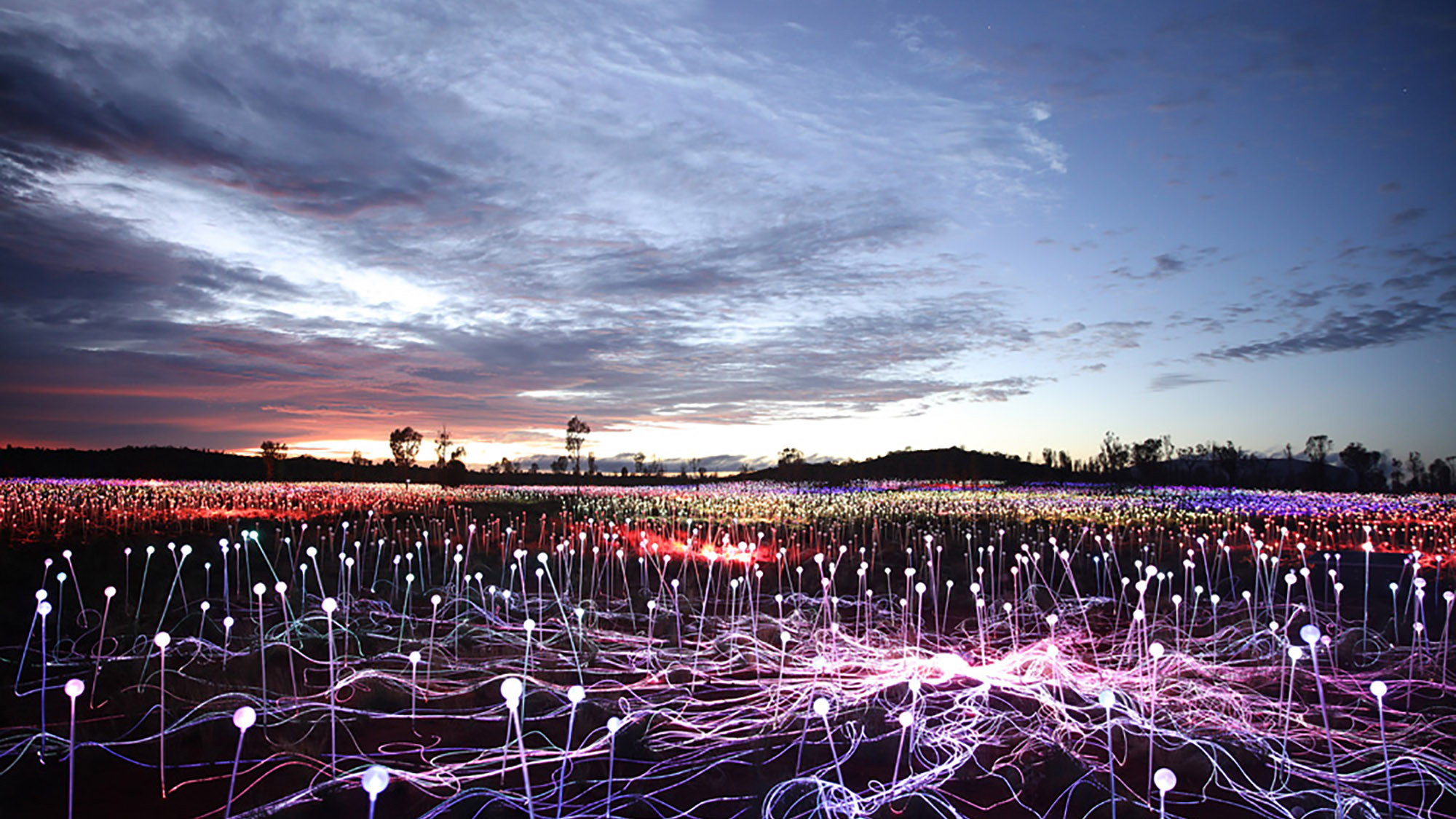 Field of Light
If you didn't think it was possible for Uluru to become more spectacular than it already is, then the Field of Light art installation will blow your mind.
As the day comes to an end and darkness begins to fall, the giant red monolith is thrown into silhouette and the surrounding bush into a serene darkness. This is when Field of Light illuminates, lighting up the landscape for as far as the eye can see in a gentle rhythm of interchanging colours.
This critically acclaimed light installation is the brain-child of internationally celebrated artist, Bruce Munro, and is aptly named Tili Wiru Tjuta Nyakutjaku in the local language of Pitjantjatjara, or, when translated means 'looking at lots of beautiful lights'. It is his largest work to date with the installation covering the overwhelming size of more than seven football fields and includes over 50,000 spindles of light set on swaying stems creating a never-before-seen fantasy garden.
The Field of Light has in fact been so popular that its end date has been extended indefinitely, so there's no excuse not to take the time out and visit this impressive spectacle. Paired with the Sounds of Silence dinner for a once-in-a-lifetime experience.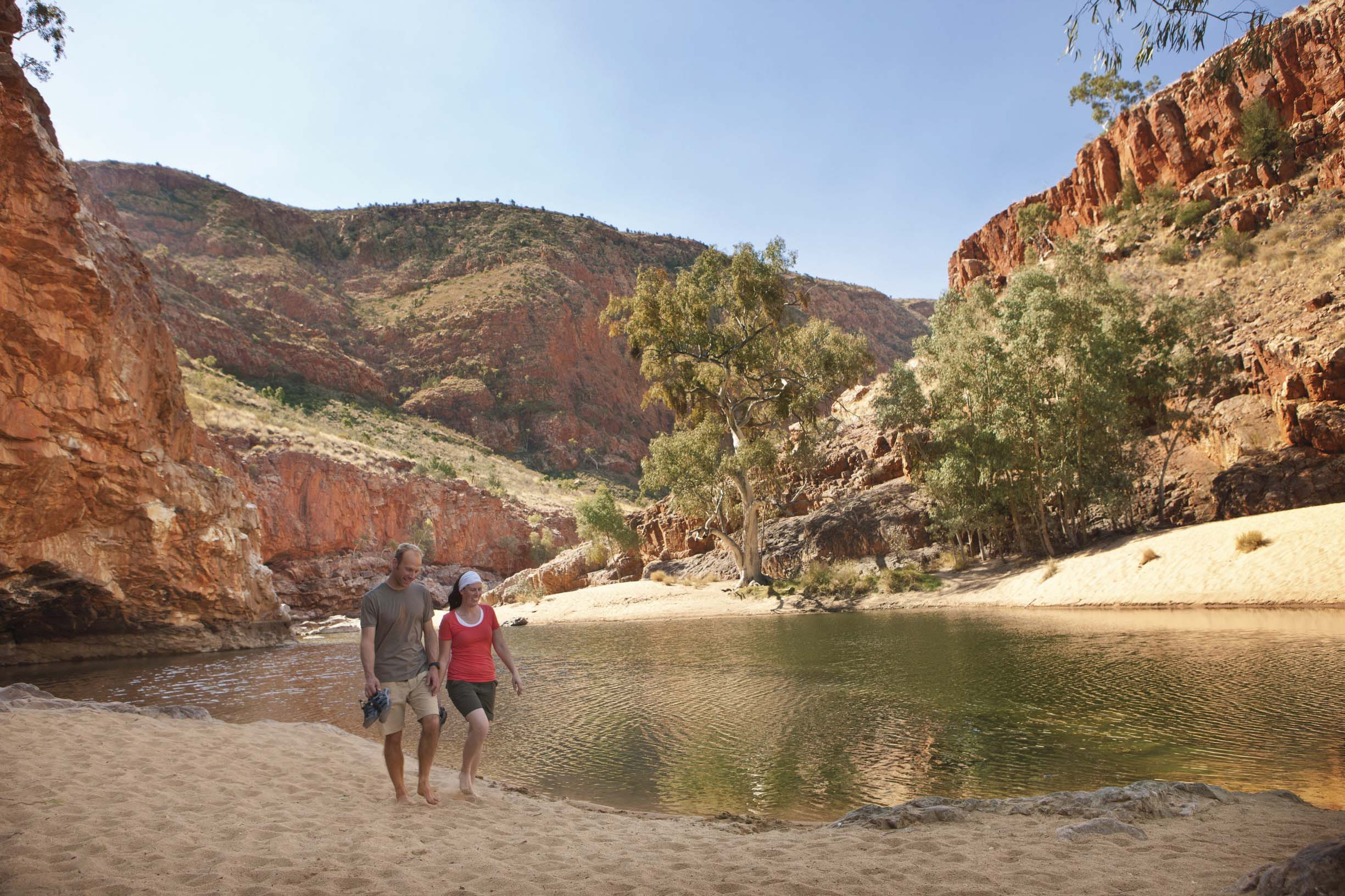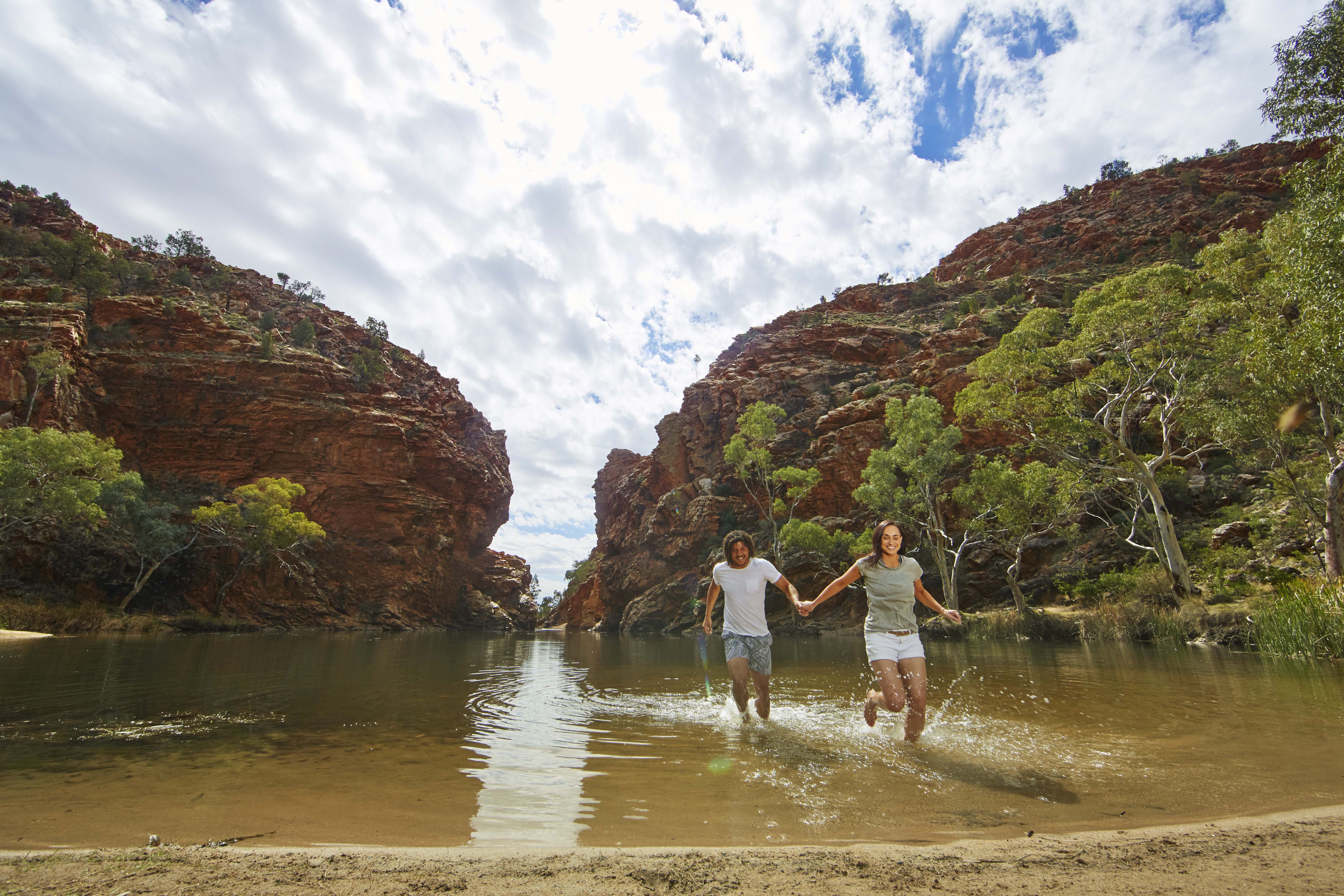 Gorges and Big Holes
Impressive waterholes are synonymous with the Northern Territory and the vast red sanded landscape of the Red Centre is no exception. Like a desert oasis, the gorges and waterholes of the Red Centre provide not only a welcoming and refreshing dip but also some of the most unique scenery in the state.
Ormiston Gorge is the outback's answer to the beach with sandy banks and the quintessentially Aussie towering gum trees surrounding the still gorge waters. Located in the West MacDonnell National Park, the gorge also contains an interesting variety of native flora and fauna and the Ormiston Pound Walk for a circuit trail exploration of the area.
Glen Helen is yet another beautiful outback gorge, often considered to be one of the most picturesque in the country. Glen Helen campground offers a unique and comfortable camping experience where you can enjoy a cooling dip in the mirror-like water while surrounded by the beauty of the rugged sandstone walls, the local wildlife and views to the West MacDonnell Ranges. Top it off with a cosy campfire under a starry night sky.
Ellery Creek Big Hole is one of the most popular waterholes to visit in the Red Centre for not only its unique setting between two towering red cliff, carved by thousands of years of floods, but also for a fantastic outback camping, hiking and swimming experience.
The waterholes are permanent and accessible all year round.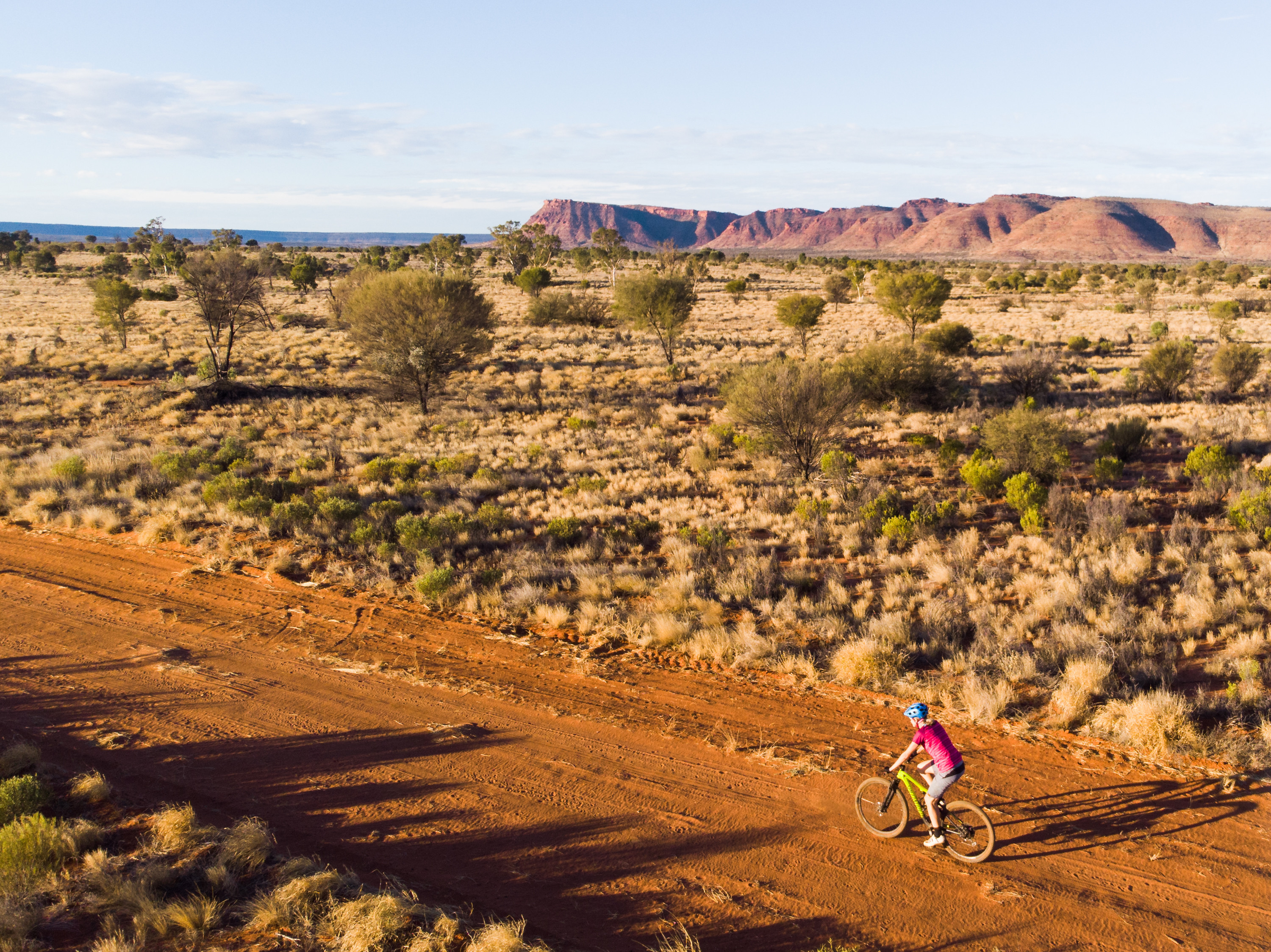 Outback Cycling
Outback Cycling offer signature Red Centre experiences via some of the most prominent and unique riding destinations in the country. The E-Bike Overnight + Brewery Tour explores the bush, geology, history and culture of Alice Springs and the MacDonnell ranges with a quintessential outback experience of sleeping for a night under the stars in a swag topped off by a visit to the Alice Springs Brewing Co.
The Uluru Bike Ride is a fantastic and unique way to view the majestic monolith from the base as you circumnavigate the rock, cycling the 10.6 kilometre roundtrip track, giving greater insight into the cracks, ridges and caves of the walls in a truly up close and personal experience. Outback Cycling offer this inexpensive encounter with the iconic rock with options for all ages and hotel transfers to and from Ayers Rock Resort for Uluru available at an additional cost.
Also read about our Top 7 Top End Unique Experiences.
Please note, some of the tours and activities mentioned above may be operating under restricted time frames due to Covid-19. Please contact the NT Now team for more information on operating times.

Click here for our Red Centre packages or contact our friendly NT Now team on 1800 854 897 or deals@ntnow.com.au for more.
Image credit: Outback Ballooning, Tourism NT Matt Cherubino, Tourism NT Shaana McNaught.
Explore our featured deals: