When it comes to picturesque swimming spots, the Northern Territory is the answer. From spectacular waterfalls and rejuvenating thermal springs to refreshing outback waterholes in the desert, a swim at any of these locations is certainly one to remember and will leave you feeling invigorated! 
From the abundance of stunning swimming locations throughout the NT, we have narrowed down  our top 10 places to take a plunge!
TOP END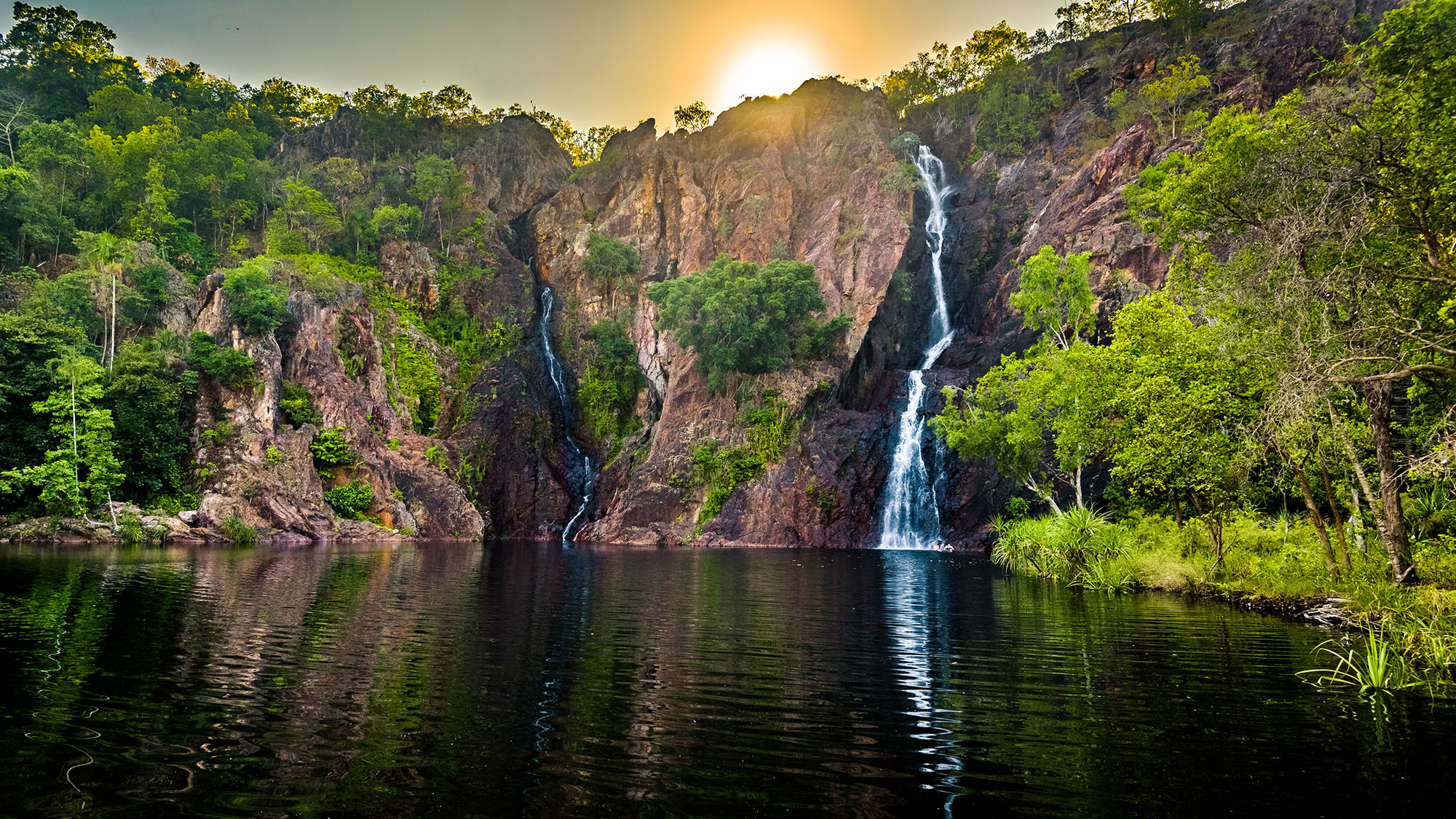 Wangi Falls, Litchfield National Park
Arguably one of the best known swimming spots in the Top End, Wangi Falls is renowned for its pristine beauty and size. Two waterfalls cascade over the rocks down to the pool below, surrounded by a lush monsoon rainforest and several surrounding walking trails that let you experience the stunning panoramic views at various lookout points from the top. There is also a kiosk, picnic areas and barbecues.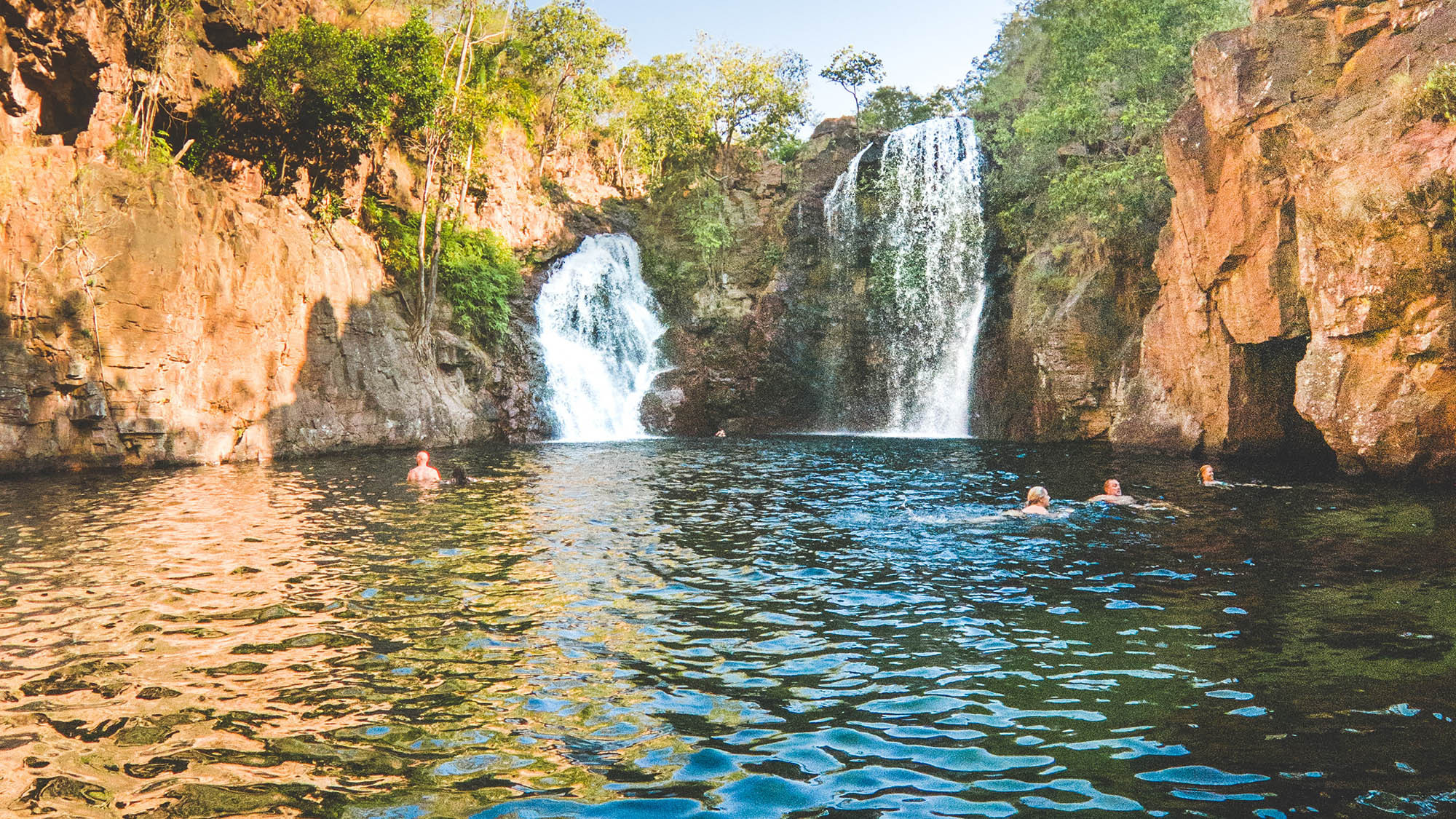 Florence Falls, Litchfield National Park
A firm favourite for locals and tourists alike, Florence Falls offers a tranquil, picturesque setting nestled amongst a tropical rainforest. A smaller and more intimate swim than Wangi Falls, you can relax on the ample rock seating in the shallow area to the sound of a cascading waterfall.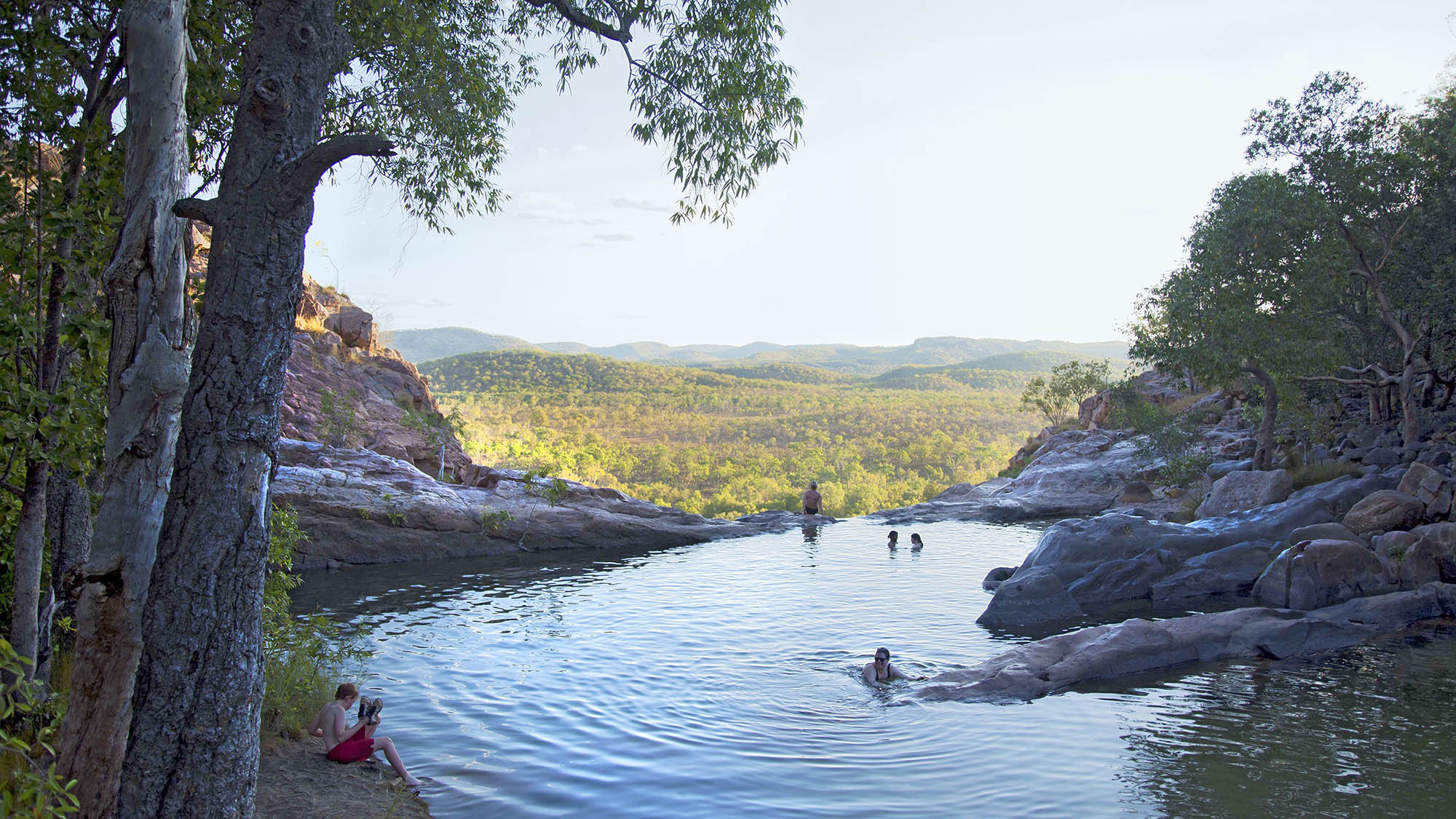 Gunlom Falls and Gunlom Plunge Pool, Kakadu National Park
A swim in a World Heritage-listed National Park is always going to be an incredible experience.  With a large crystal clear plunge pool at the base of the falls, spectacular natural infinity pools at the top, campgrounds and day use areas, Gunlom is a location where you can spend hours or days exploring.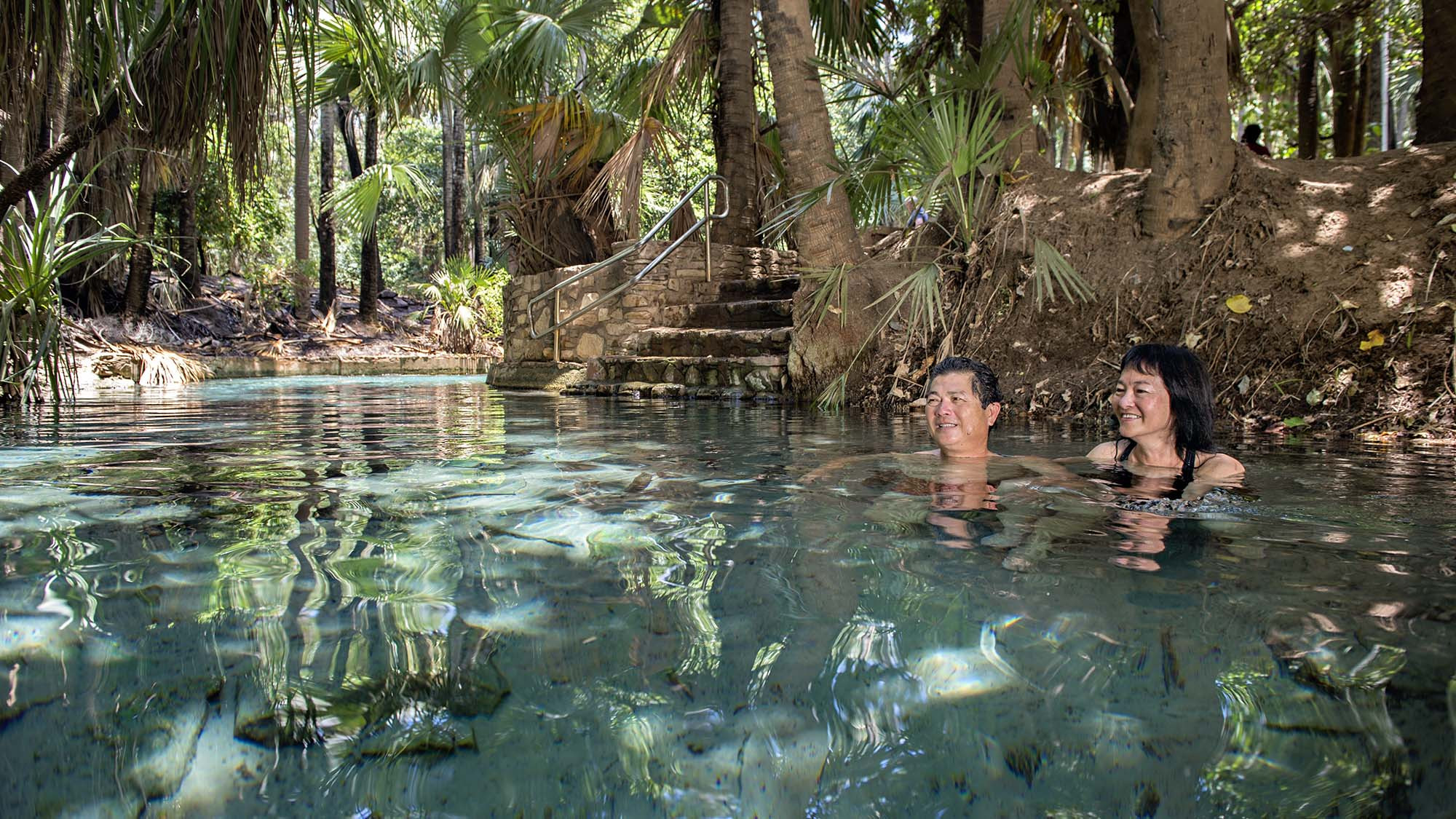 Mataranka Thermal Pool, Katherine region
The warm turquoise waters and sandy bottomed thermal pool surrounded by lush tropical greenery and towering palms overhead make this swimming spot a slice of paradise. The thermal waters are thought to have healing properties, soothing away aches and pains.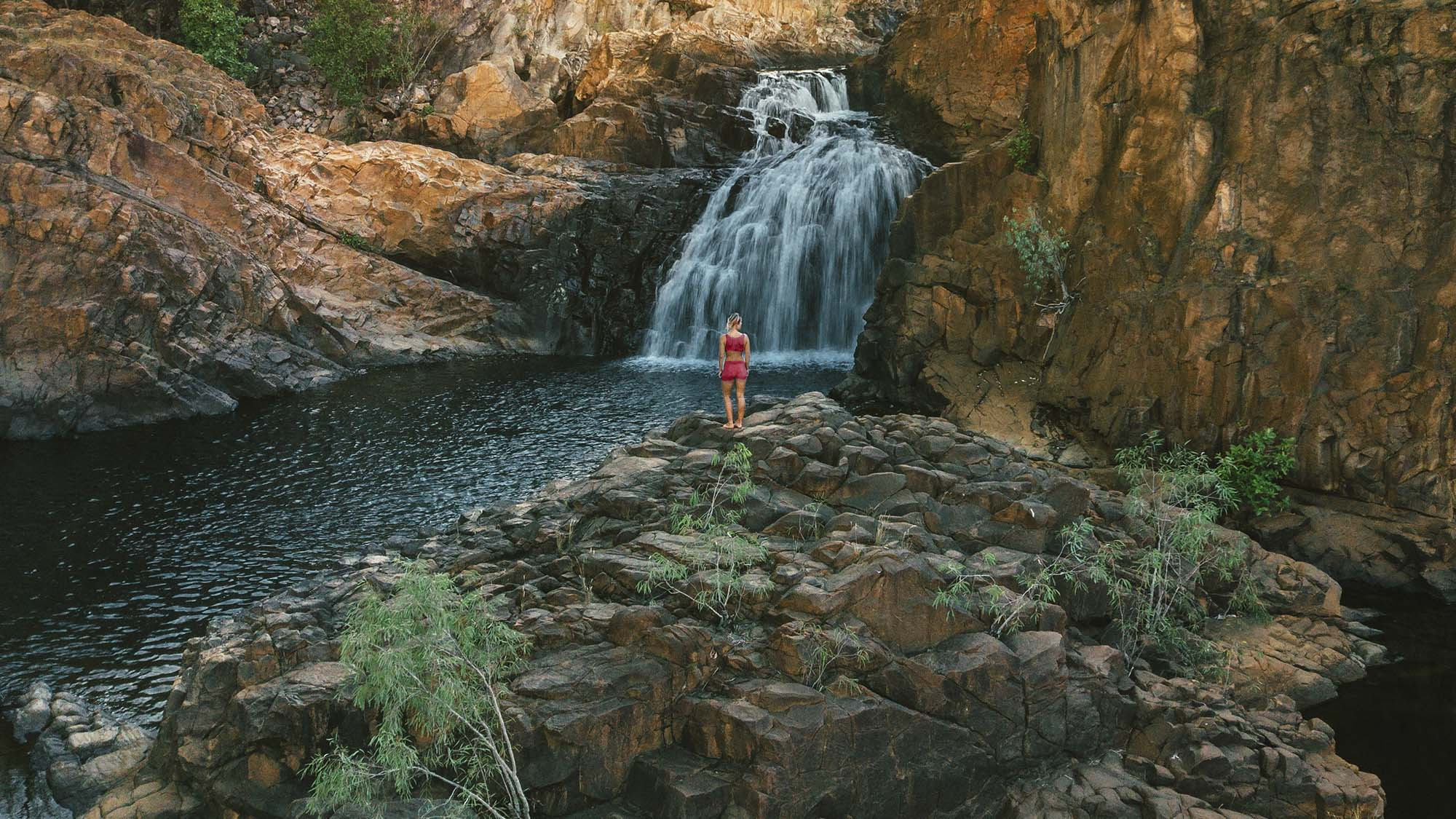 Edith Falls, Katherine region
A stunning swimming and recreational area, boasting a series of cascading waterfalls and pools forming part of the Edith River on the western side of Nitmiluk National Park. Enjoy a plunge in the pool at the base of the falls or take a short but challenging hike up the escarpment and reward yourself with a refreshing soak in the top pools.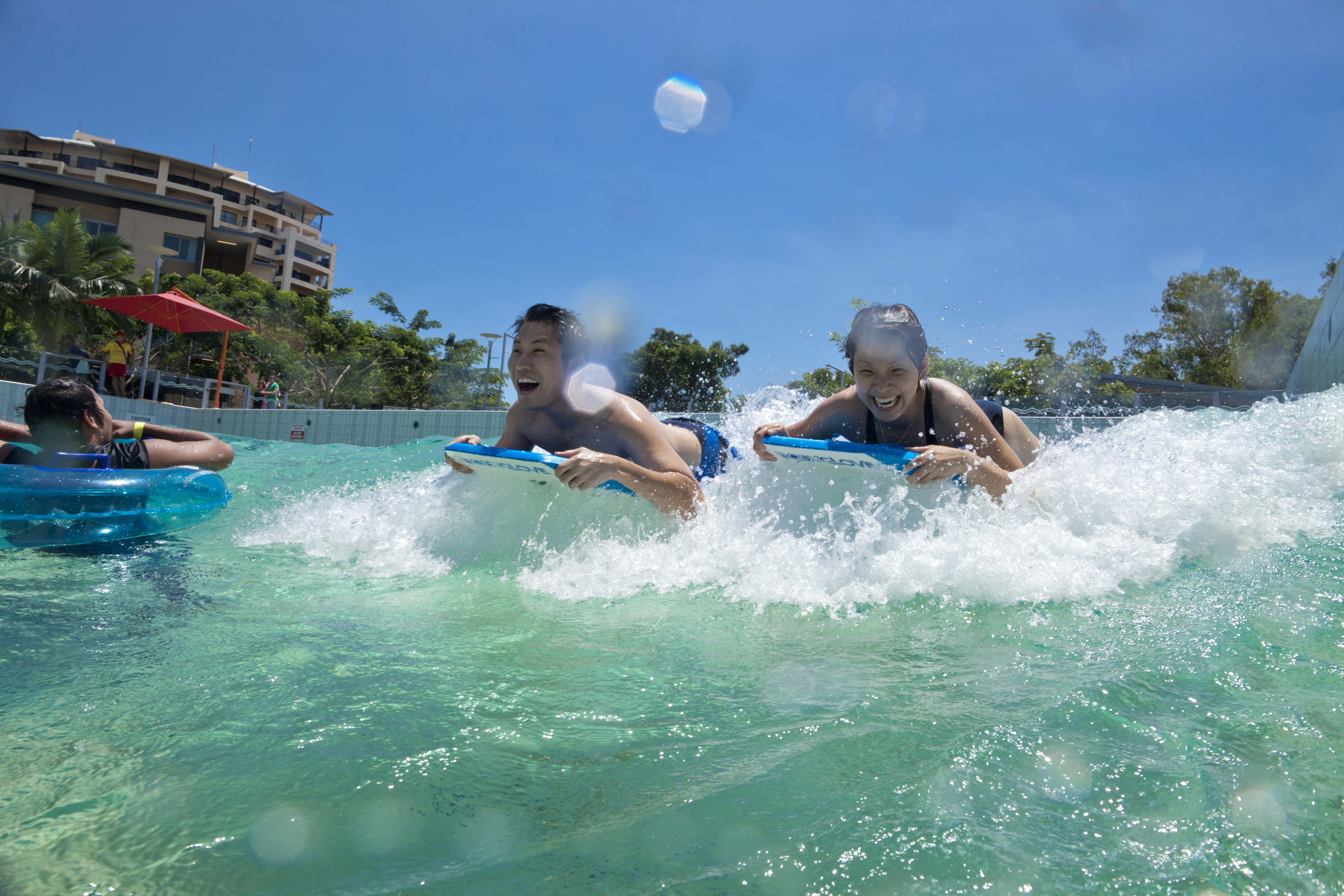 Wave Lagoon, Darwin Waterfront
For those looking for a man-made, year-round swimming spot, the Wave Lagoon is a fun option in the heart of Darwin. Ride the wave bursts on the inflatable tubes and relax on a sun lounge under an umbrella, with the kiosk supplying refreshing drinks and snacks.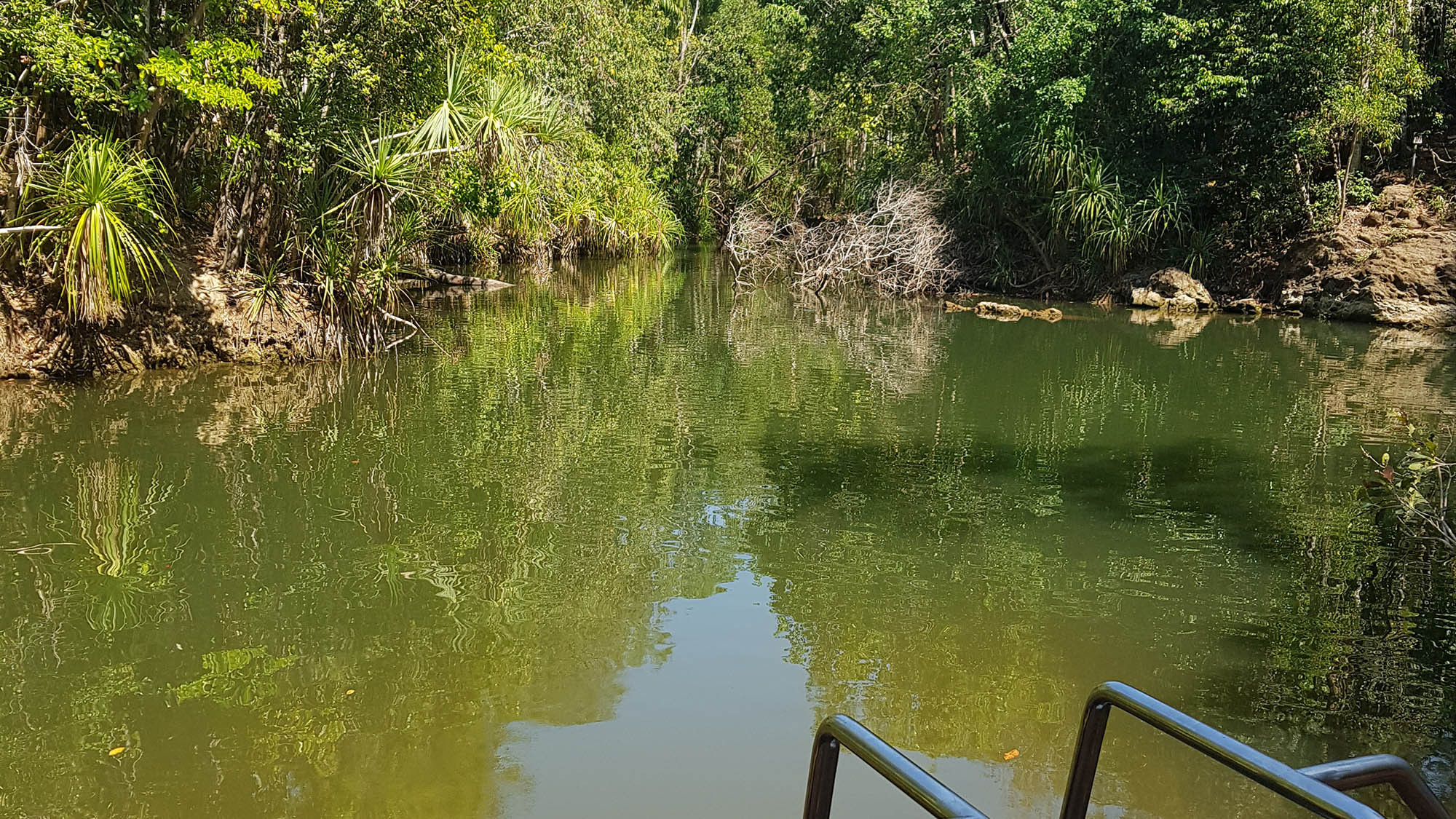 Berry Springs, Darwin
Berry Springs Nature Park is one of the Top End's most beautiful parks and located only 47 kilometres south of Darwin. It is popular with locals for a picnic outing due to its abundance of shady trees, barbecue facilities and clear swimming pools for the perfect refresh.
RED CENTRE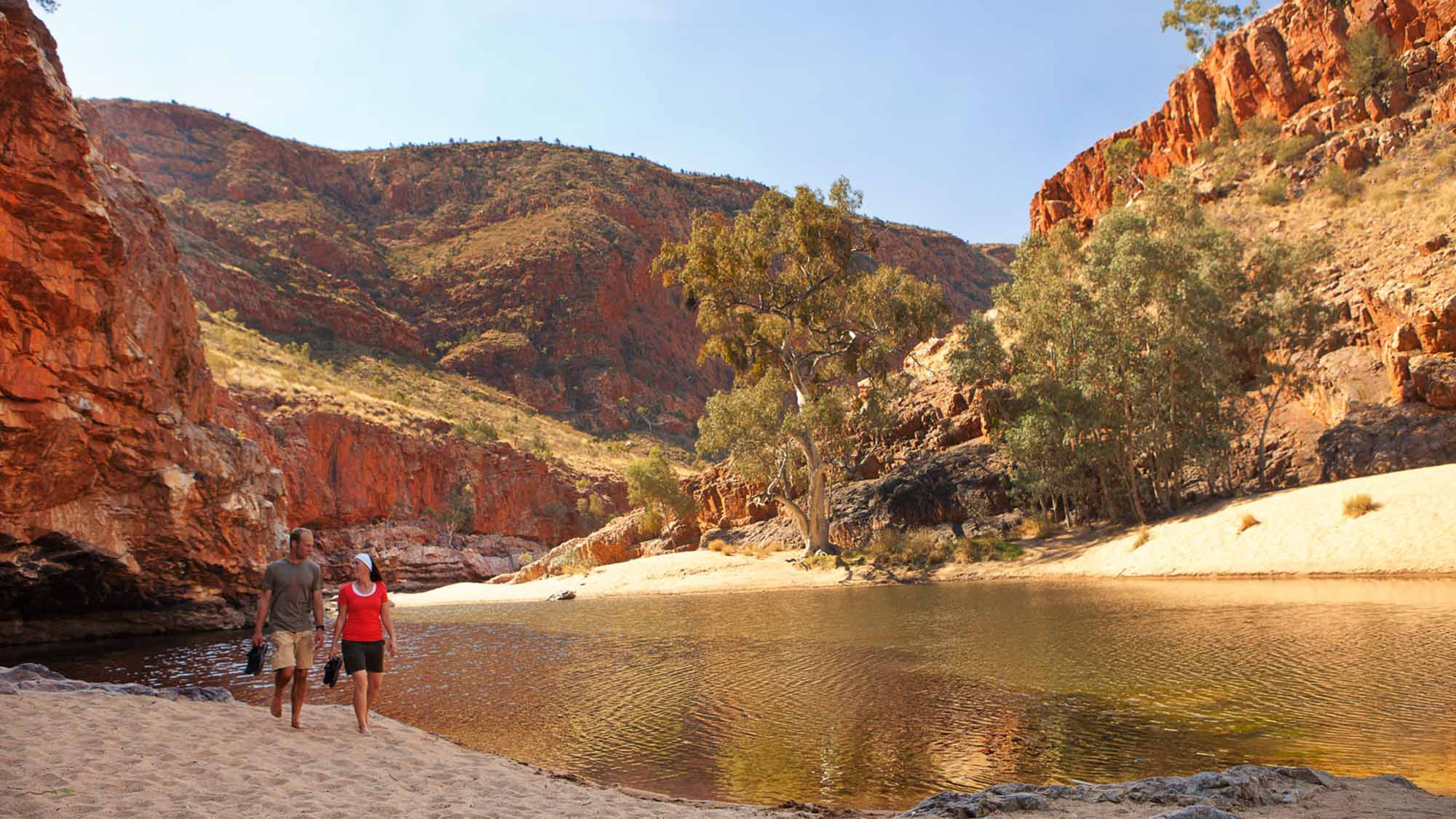 Ormiston Gorge, West MacDonnell Ranges
Ormiston Gorge is the outback's answer to the beach with sandy banks and the quintessentially Aussie towering gum trees surrounding the still gorge waters. Located in the West MacDonnell National Park, the gorge also contains an interesting variety of native flora and fauna and the Ormiston Pound Walk for a circuit trail exploration of the area.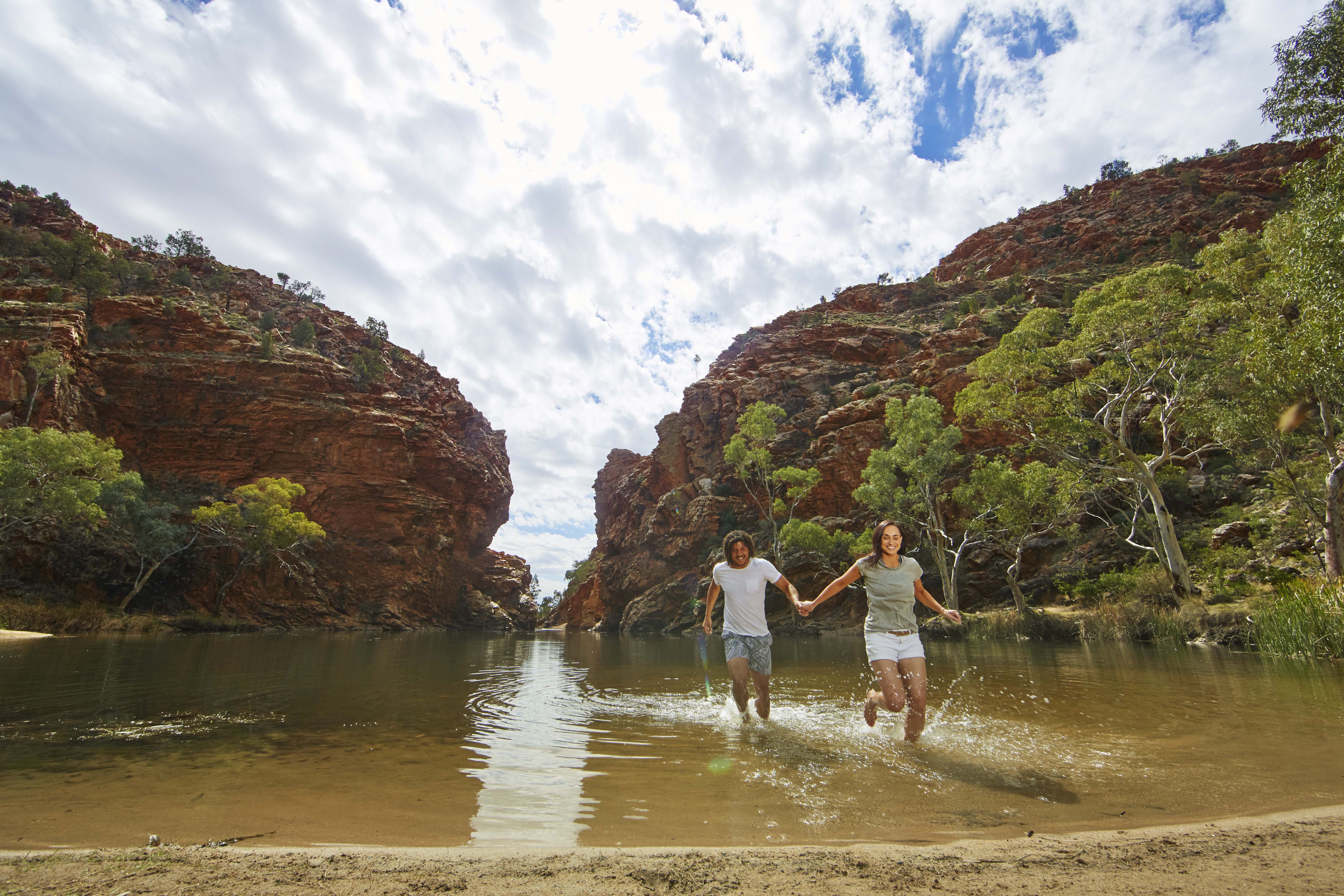 Ellery Creek Big Hole, West MacDonnell Ranges
Ellery Creek Big Hole is one of the most popular waterholes to visit in the Red Centre for not only its unique setting between two towering red cliffs, carved by thousands of years of floods, but also for a fantastic outback camping, hiking and swimming experience.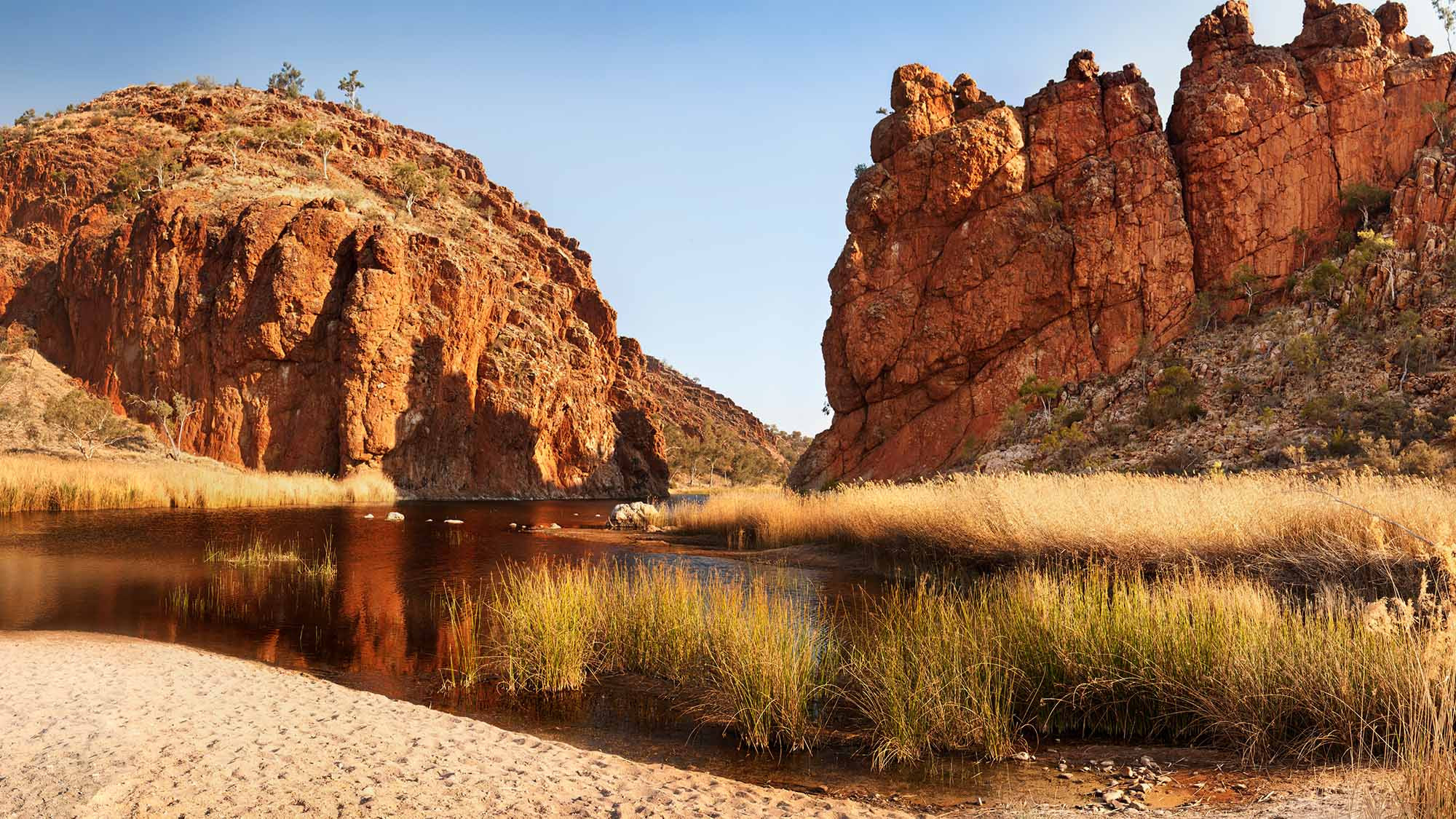 Glen Helen, West MacDonnell Ranges
Glen Helen is yet another beautiful outback gorge, often considered to be one of the most picturesque in the country. Enjoy a cooling dip in the mirror-like water while surrounded by the beauty of the rugged sandstone walls, the local wildlife and views of the West MacDonnell Ranges. Top it off with a cosy campfire under a starry night sky.
For up to date swimming information and park opening times head to https://nt.gov.au/leisure/parks-reserves/find-a-park/find-a-park-to-visit  
Contact NT Now on 1800 854 897 or deals@ntnow.com.au for more.
Image credit: Getty Images, Tourism NT - Taylah_Nilsson, Tourism NT - Mitch Cox, Tourism NT - Dan Moore, Paddy Palin & Peter Eve.
Explore our featured deals: