Witness the NT's magnificent waterfalls at their best
Nothing compares to a chopper ride or scenic flight over Kakadu National Park to see the gushing Jim Jim and Twin Falls at their majestic, tropical season best. An aerial view provides one of the best ways to witness the immense power of these falls. Litchfield National Parks raging waterfalls which should be on every Tropical Summer itinerary. There is so much water cascading down the falls, and these Tropical Summer sights make for enviable Facebook and Instagram snaps! A bonus is that on these rides you'll also get to experience the NT's nature in it's most lush and green state, as well as spot the active local wildlife that are out and about.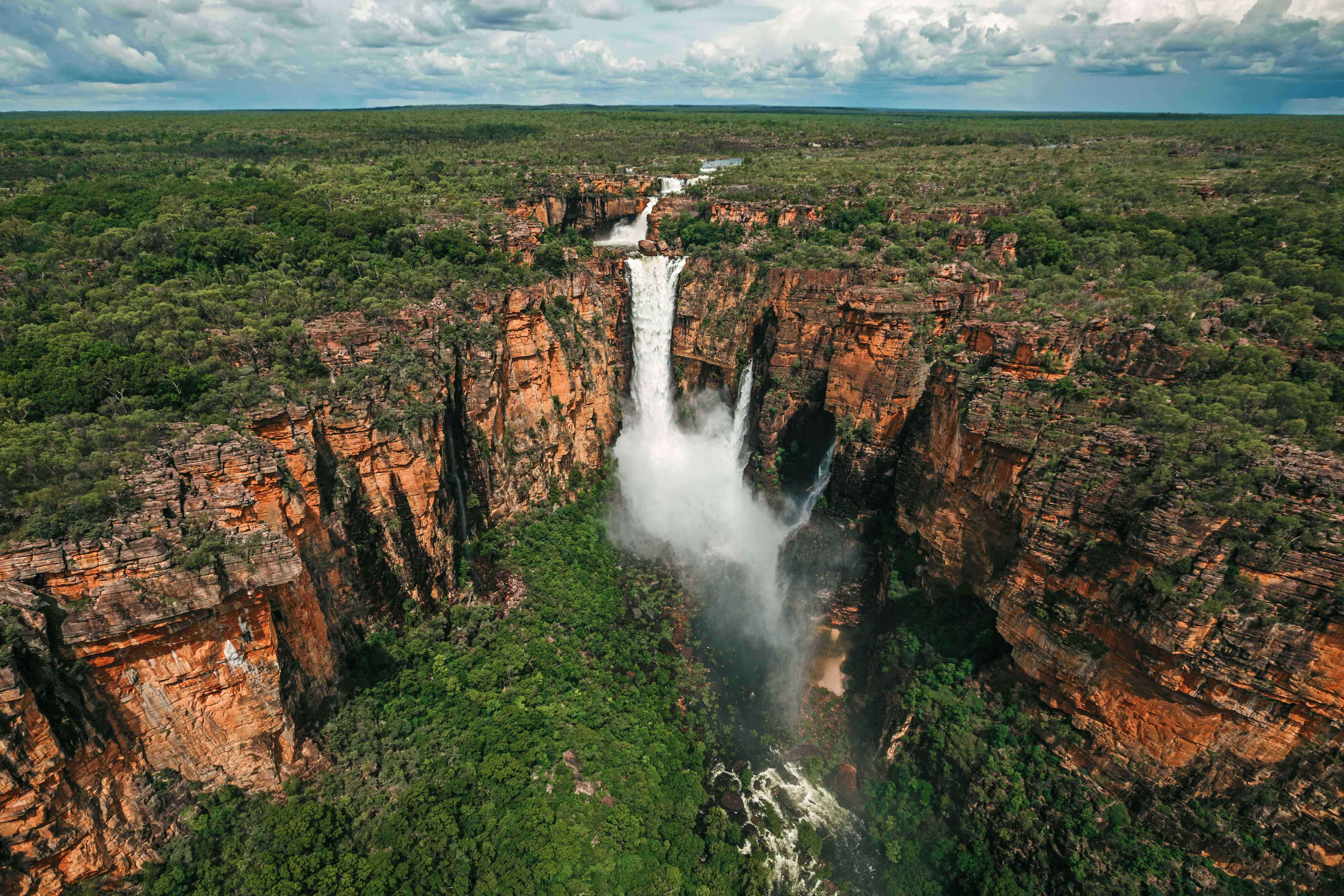 Image: Scenic flight over Jim Jim Falls (credit Jarrad Seng & Tourism NT)
The best sunsets and lightning shows in Australia
Any local will tell you that Tropical Summer sunsets are dazzling and rival the best fireworks displays while the magnificent lightening shows are world class, and free! Grab a harbour-side seat at the Darwin Ski Club, historic Stokes Hill Wharf, or jump aboard Sea Darwin for a sunset harbour cruise. It is also not uncommon to find locals gazing outwards from camp chairs on the shoreline as the open harbour mouth offers uninterrupted views of these vivid light displays over rippled water.
This time of year means you'll get to witness the intensity of the powerful electrical storms and possibly even the atmospheric phenomenon of rainbows appearing between layers of stormy cloud. Great views of the Northern Territory's diverse sky and impressive sunsets can also be found in the Red Centre, and at Ubirr where you'll see Kakadu lit up with the ever-changing colours of the Top End, providing an unforgettable sunset experience.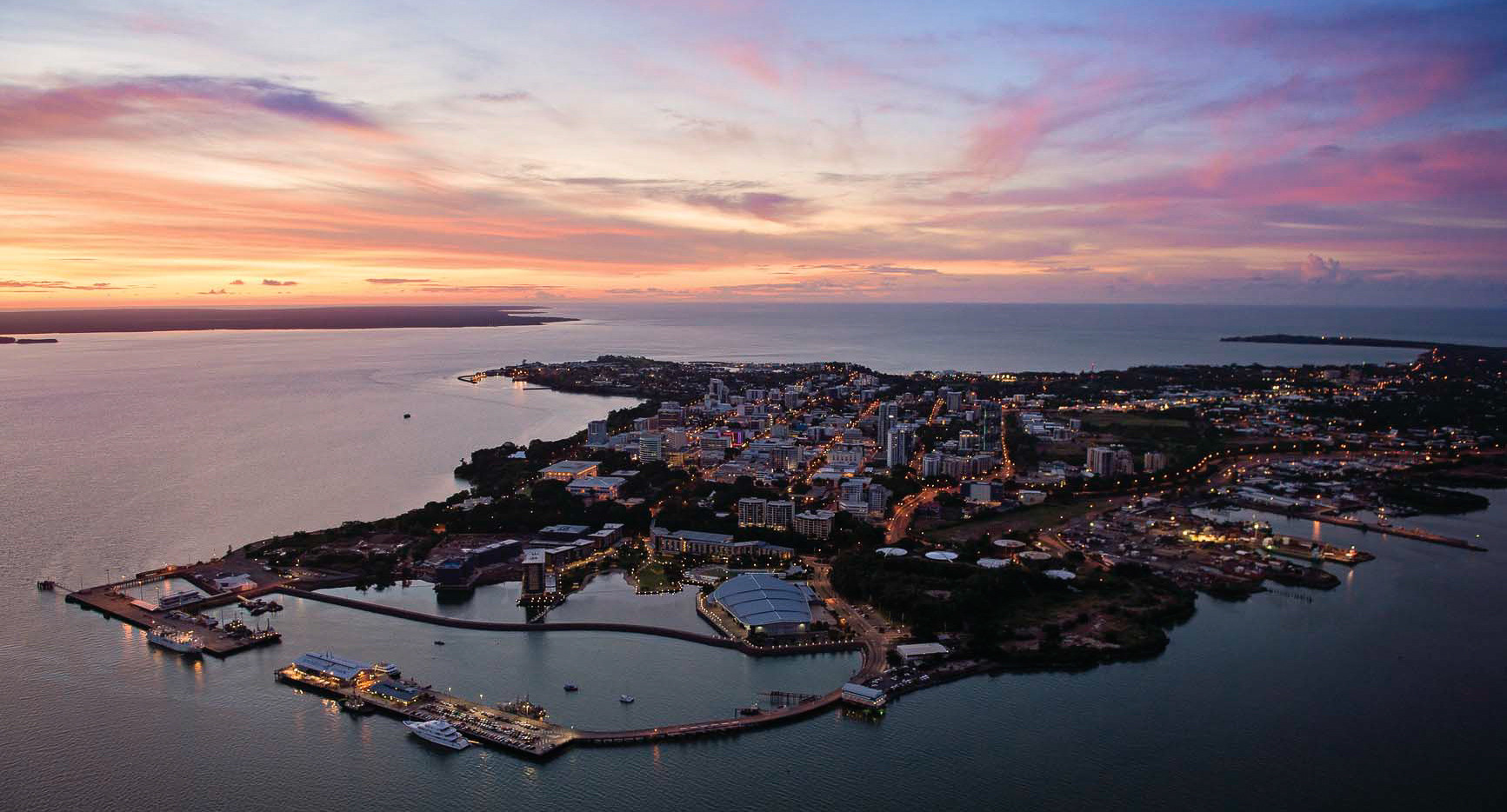 Image: A classic Darwin sunset (credit Shaana McNaught & Tourism NT)
Delve into Darwin's past
If a shower does happen to dictate your day, The Royal Flying Doctors Tourist Precinct at Stokes Hill Wharf is an indoors must. Here you'll learn all about the rich history of RFDS and the heroic tales from the pilots, doctors, nurses and patients experienced through life-size holograms, interactive storytelling, touch screen portals and even a decommissioned RFDS Pilatus PC 12 aircraft that you can venture into.
At the Darwin Military Museum, you can walk through the lush gardens and discover the range of military vehicles and large artillery pieces as well as venturing beneath the gun deck to explore their vast collection of Vietnam War artefacts, weaponry and photographs. Hear first-hand accounts from the men and women who survived the horror of that morning, as well as actual footage and The Defence of Darwin Experience which is another captivating interactive exhibition space.

Image: Checking out Darwin's history and the RFDS Tourist Facility, Stokes Wharf (credit Royal Flying Doctors Service)
Cuddle, feed and swim with a croc!
What's a trip to the Top End without seeing a croc? Opportunities are abound for safe crocodile experiences all year round. Located on Mitchell Street in the very heart of Darwin, Crocosaurus Cove is famous for its "Cage of Death" swimming experience. This 3 storey attraction that occupies almost an entire city block and allows visitors to witness iconic Top End Crocodiles from 3 months to 80 years old in purpose designed displays that can be viewed from all 3 levels.
Here you'll enjoy 360 degree viewing of some of the largest Saltwater crocodiles in captivity and don't forget to check out our most famous crocodile, Burt, the star of the iconic Australian movie, Crocodile Dundee! There are also plenty of smaller creatures to captivate you including reptiles and fish as well as a variety of animal-based shows throughout the day to keep you entertained. For those after an adrenaline-pumping experience, the Cage of Death is the way to go as you're lowered into the same enclosure as some of the largest Saltwater crocodiles on the planet for a unique 15 minute, face to face encounter!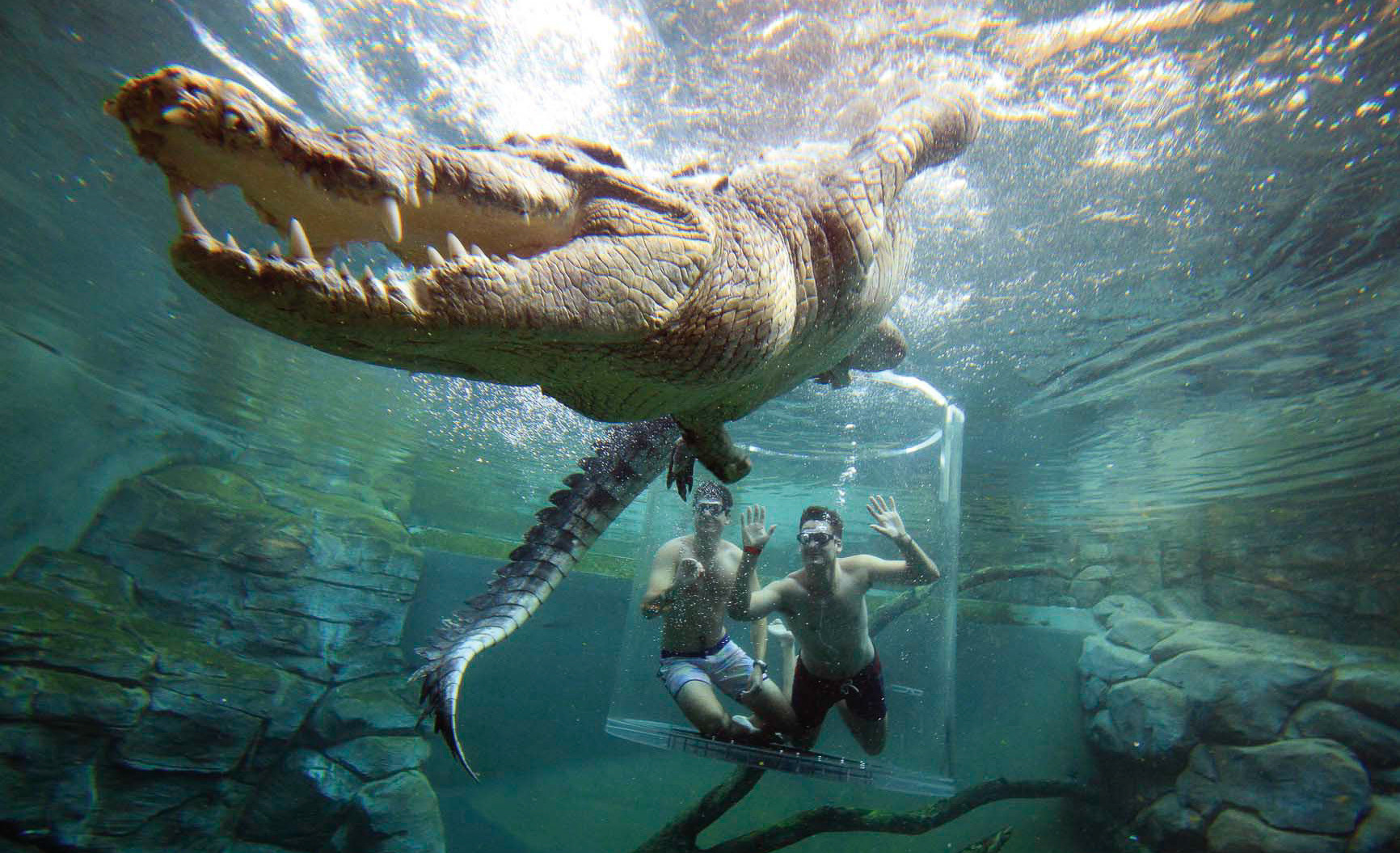 Image: Facing fears in the Cage of Death at Crocosaurus Cove (credit Shaana McNaught & Tourism NT)
Take in some of the NT's art and natural history
Perfect on a hot or rainy day, The MAGNT covers a range of topics, installations and activities including engaging interactive programs, maritime history, palaeontology, an ever-growing collection of Aboriginal Art, a vast natural science collection and a breathtaking display about Cyclone Tracy's devastating impact. They provide a whopping collection of over 1.2 million natural history specimens and over 30,000 items of world-class art and material culture.
Rain or shine you can pick up that piece of Aboriginal art you have always dreamed of at Outstation Gallery. Be sure to stop in at Starwin Shopfront and Aboriginal Bush Traders located along the Esplanade to browse at their fab collection of clothes, home wares, jewelry and more. They are all open for majority of the Tropical Summer season.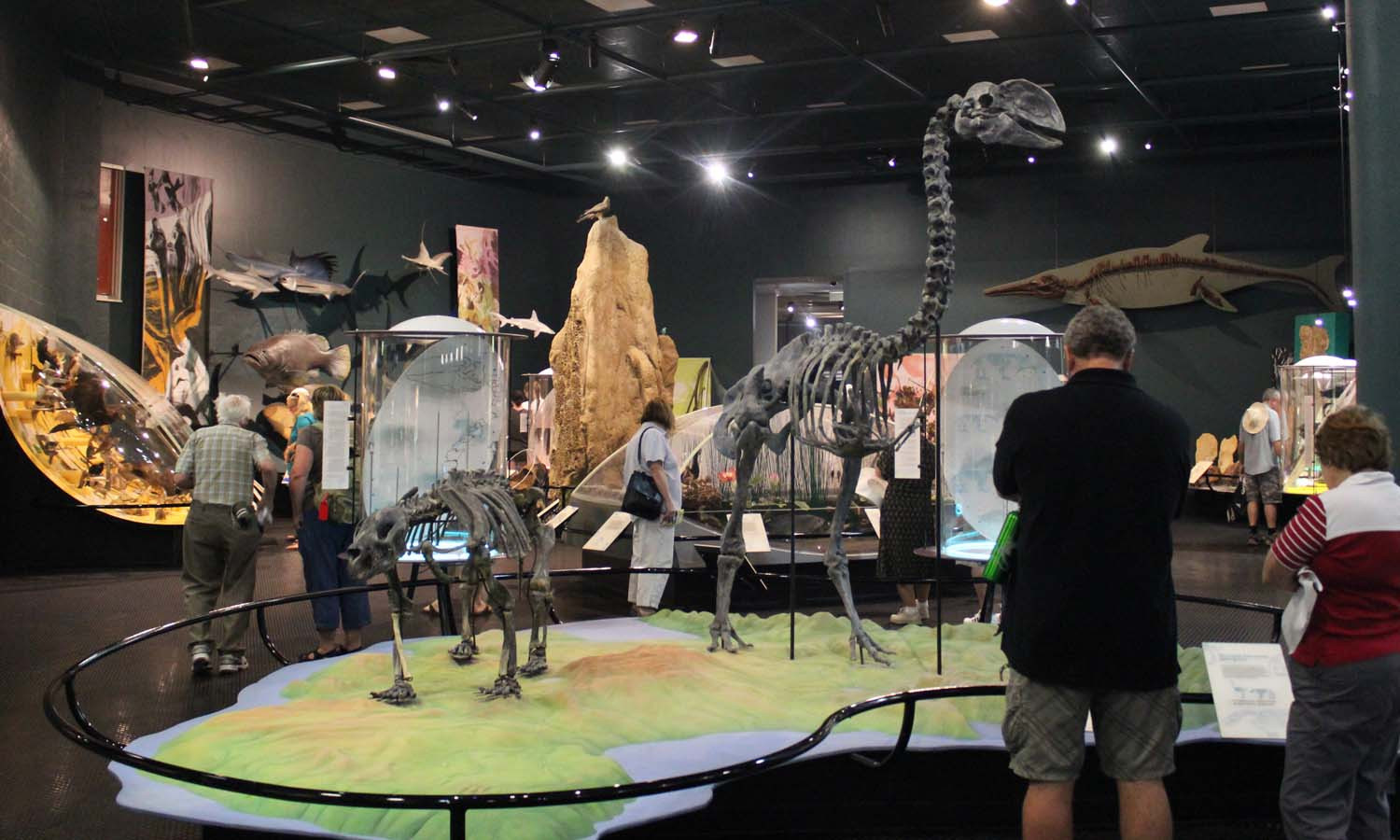 Image: Exploring the features of the MAGNT (credit Aude Mayans & Tourism NT)
Hook a Top End barramundi
Just ask the local fishing enthusiasts - nothing compares to hooking a metre-plus barramundi in the Top End. During the Tropical Summer, anglers are abuzz with the Million Dollar Fish competition. There's 100 barramundi tagged with a $10,000 prize tag and one with worth $1 million to be caught in Territory waters. It's a chance to hook your fortune or at least yourself in the attempt!
Beginners to experienced anglers can have one of the NT's best experiences: fishing for barramundi, a fish prized for its exhilarating fight and enormous leaps out of the water. Join one of the many tours from Darwin that cater for all visitors, or go remote into Arnhem Land where the fishing is some of the world's best. Try helifishing for the ultimate NT barramundi adventure.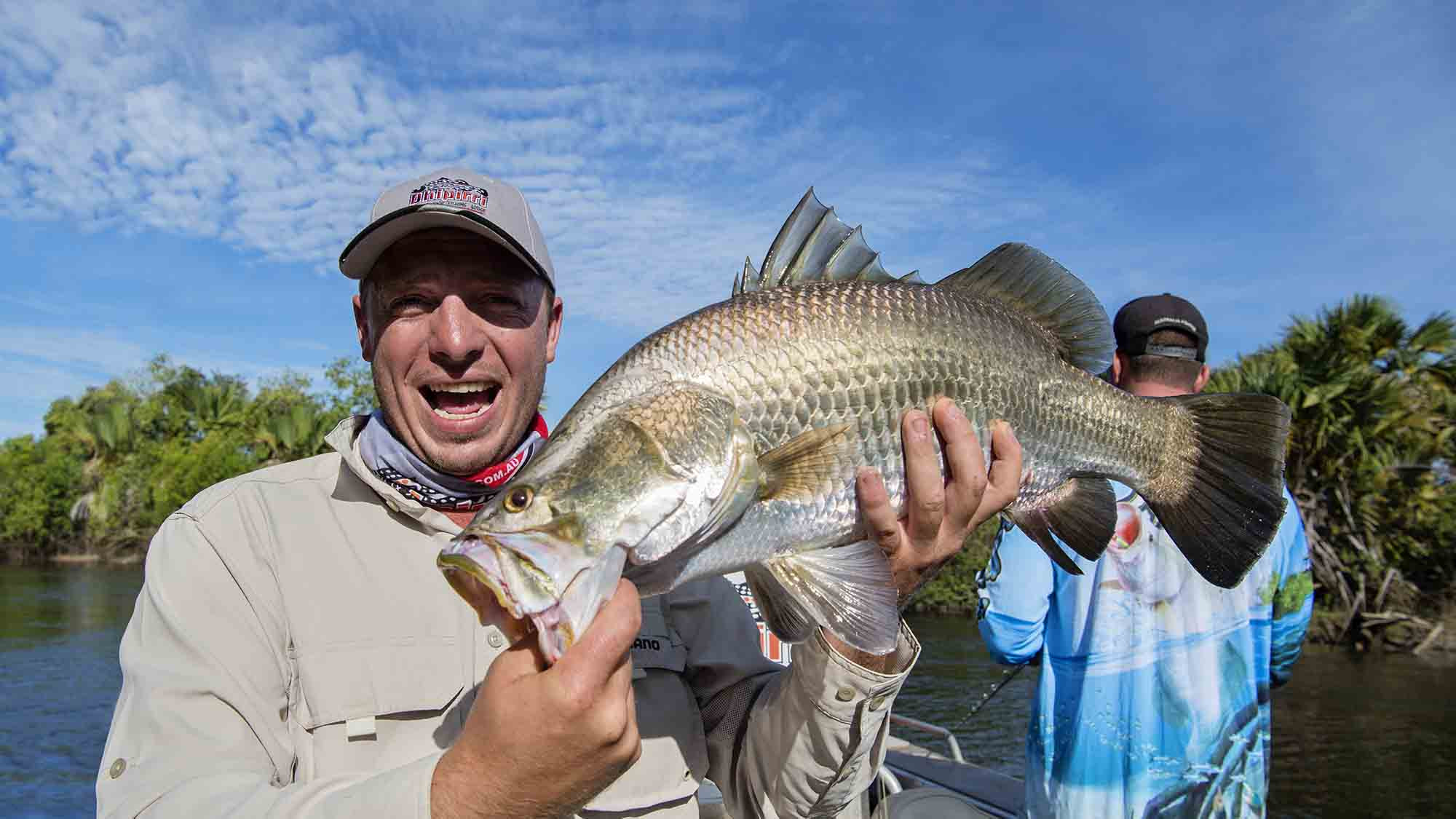 Image: Mighty barra catch (credit Tourism NT)
Click here
for our Top End deals or contact our friendly NT Now team on 1800 854 897 or email deals@ntnow.com.au
Explore our featured deals: