The majesty of Nitmiluk National Park, incorporating 13 beautiful gorges including the renowned Nitmiluk (Katherine) Gorge, needs to be seen to be believed. And there are a number of ways to explore this incredible bucket-list experience including on-foot, cruising, by air or canoeing!
Canoes can be hired from the visitor centre and no prior canoe experience is required, just pop your life jacket on, grab your paddle and go for it! You will experience such serenity as you completely immerse yourself in the natural beauty that surrounds you. Pass by Aboriginal rock art, stunning escarpments and of course the local freshwater crocodiles in their natural habitat sunning themselves on the embankments. It's a really fun and active option, giving you a different perspective of the gorge.
A relaxing two-hour cruise through the sandstone walls of Nitmiluk Gorge will present you with plenty of opportunities to spot local wildlife including freshwater crocodiles, vibrant birdlife and native plants. See Aboriginal rock art depicting images steeped in the deep spiritual culture of the traditional owners of the land, the Jawoyn people all while you sit back, relax and take in the beauty.
Jatbula Trail starts from the visitor centre and is 58 kilometres of walking trail through the changing rugged landscape and finishes at Leliyn (Edith) Falls. Cascading waterfalls, local wildlife and sweeping views are on the menu here, finished off with an invigorating waterhole swim. A medium to high level of fitness is required for this trail and it takes 5-6 days to complete. Camping along the way is required and the trail needs to be booked (at a fee) through nt.gov.au as there are limited hiking places available.
Or for a spectacular aerial view of the gorges, Arnhem Land and surrounds you can take a helicopter ride which also departs near the visitor centre. This will really show off the landscape on another level and witnessing the sheer vastness of this ancient land will be completely worth it!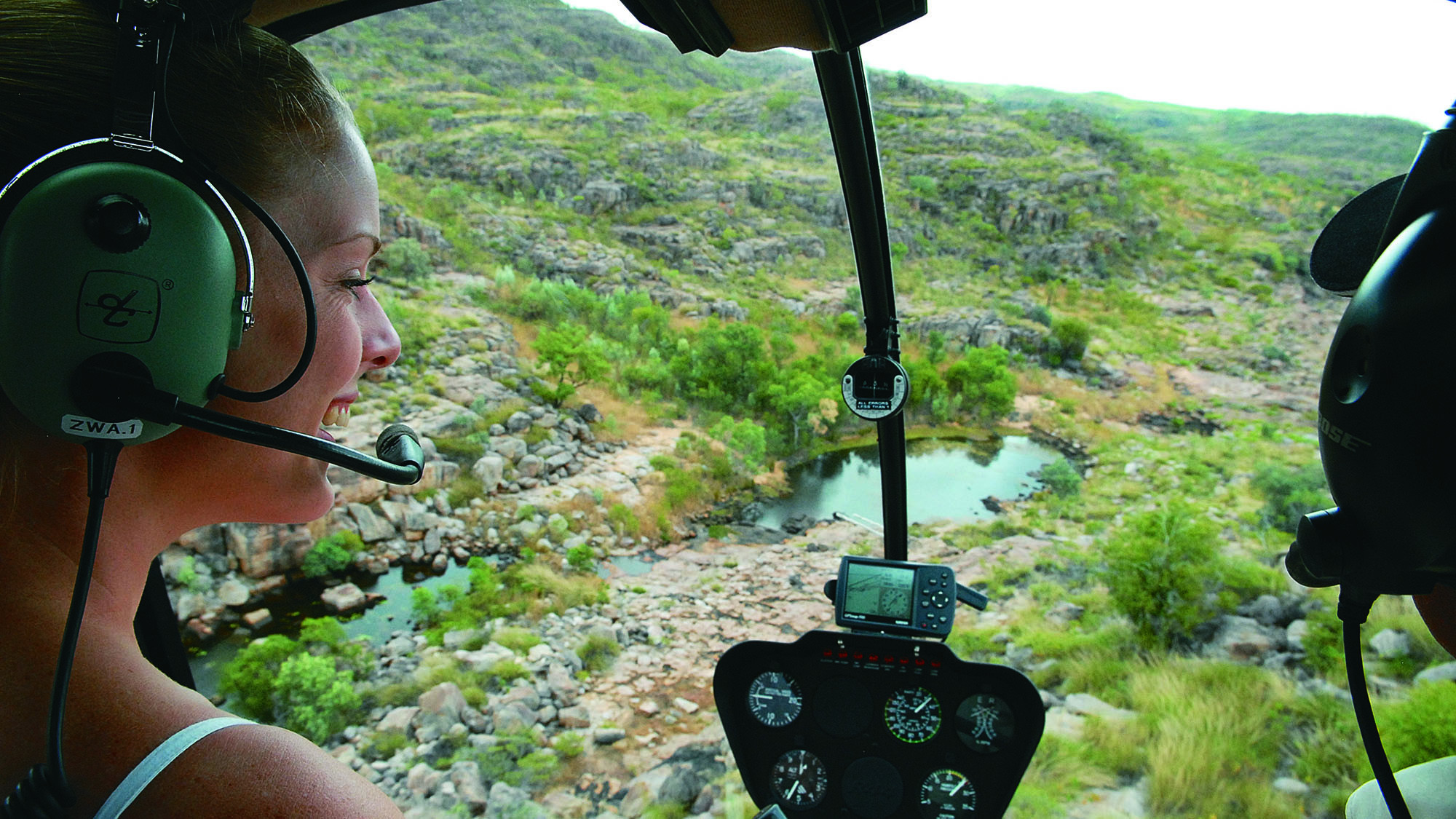 The third largest town in the Northern Territory, Katherine, is your gateway to all of the above. Situated on the banks of the Katherine River which flows through to Nitmiluk Gorge. Katherine holds a rich history in indigenous art, World War II and the Overland Telegraph Line which are easily accessible throughout the town or its museums.
There are abundant accommodation options to suit all budgets in the Katherine region but for something really special Cicada Lodge is a must. A luxurious eco-friendly lodge offering a truly authentic experience-of-a-lifetime. An elegant sanctuary with indigenous and natural Australian influences throughout the 18 rooms, lodge amenities and even incorporated into the unique dining experience.
Your Katherine experience, whatever form this may be in, will captivate you.
Explore our featured deals: