What better way to experience a destination than like a local? Thanks to the moderate population, well laid out city and ease of getting around, Darwin makes this easily achievable. When in Darwin, do as the Darwinians do! With a few obligatory tourist must-dos added in of course.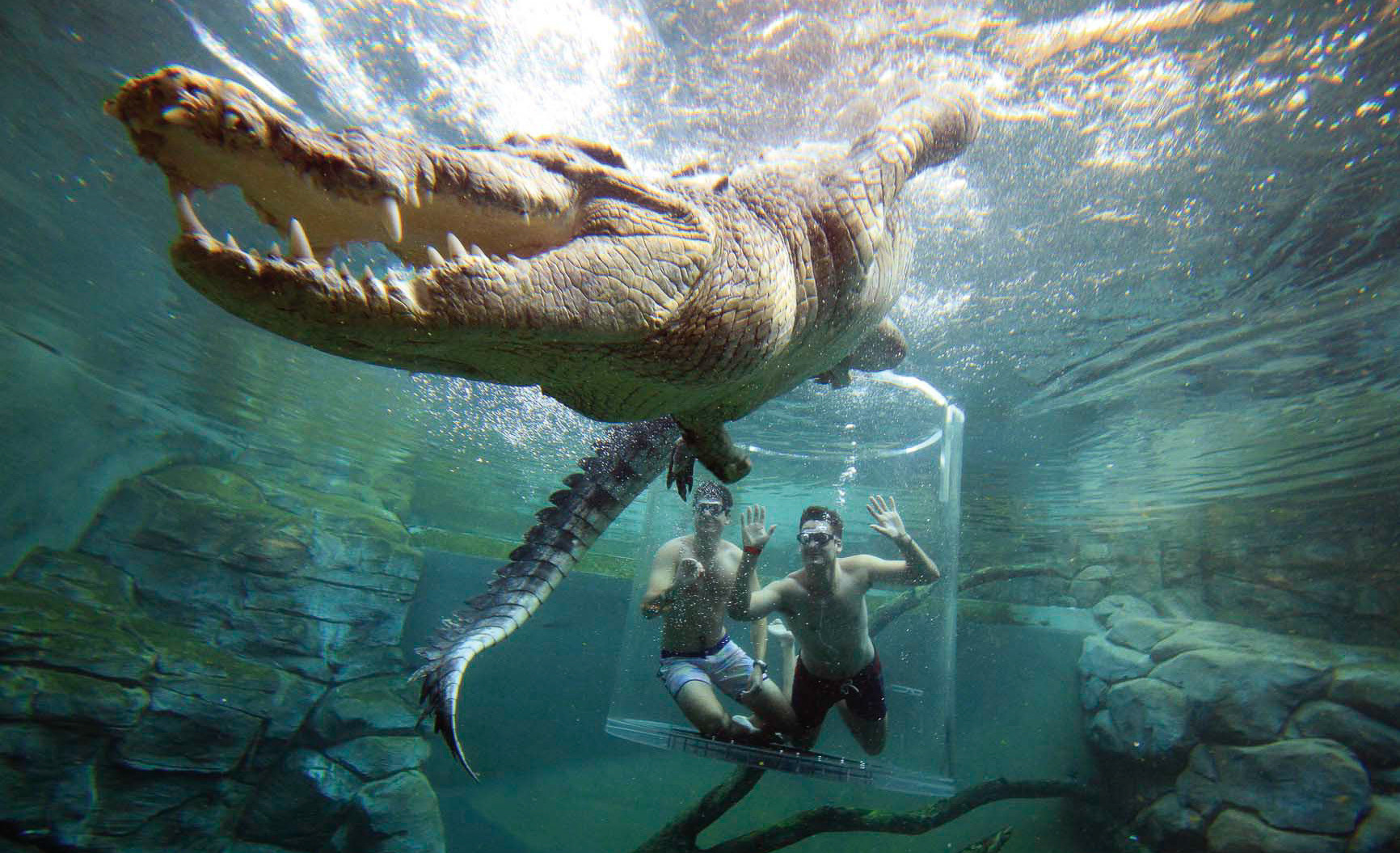 1. Crocosaurus Cove
Ok maybe this one isn't exactly a local hangout but it's a great introduction to the iconic Territory reptile – the mighty crocodile. Crocosaurus Cove is located right in the centre of town where you can get up close and personal and learn about the mighty Saltwater Crocodiles, Australian reptiles and local marine life. For the thrill seekers, you can also attempt the Cage of Death!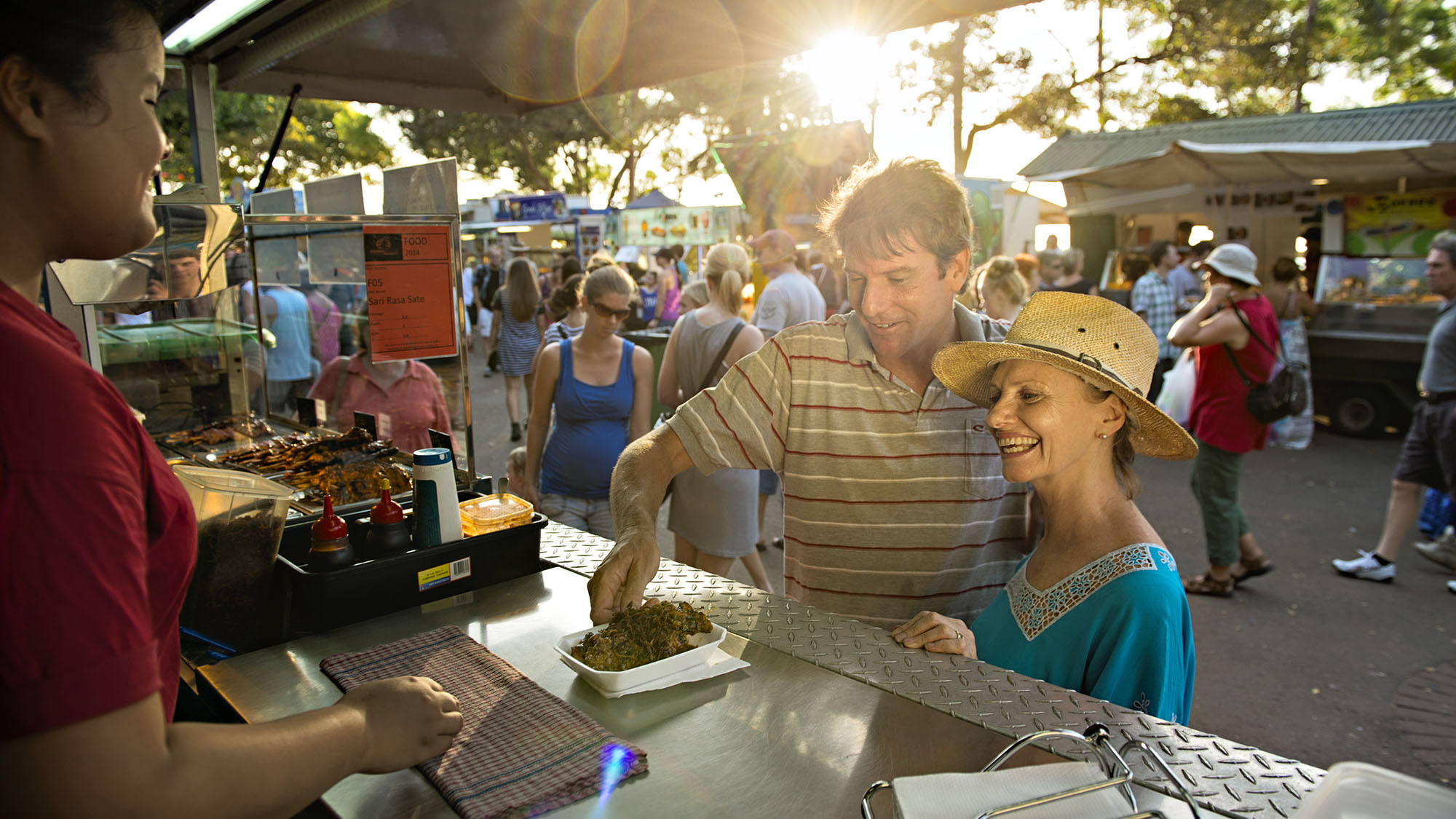 2. Markets are life
Do as a local Darwinian does and head to the markets. Every Saturday morning, the Parap Markets caters for residents and tourists alike with local and exotic fruits and vegetables, great food, amazing laksa, great coffee, stunning tropical flowers and a true Territorian atmosphere. During the last Sunday in April until the last Sunday in October annually, you must include at least one visit to the Mindil Beach Sunset Markets (trust me you'll want to go more than once!). Famous not only for being 'the spot' to watch a renowned sunset but also for the incredible food vendors who spoil you for choice and awesome local entertainers. Plus it's a serious shoppers delight!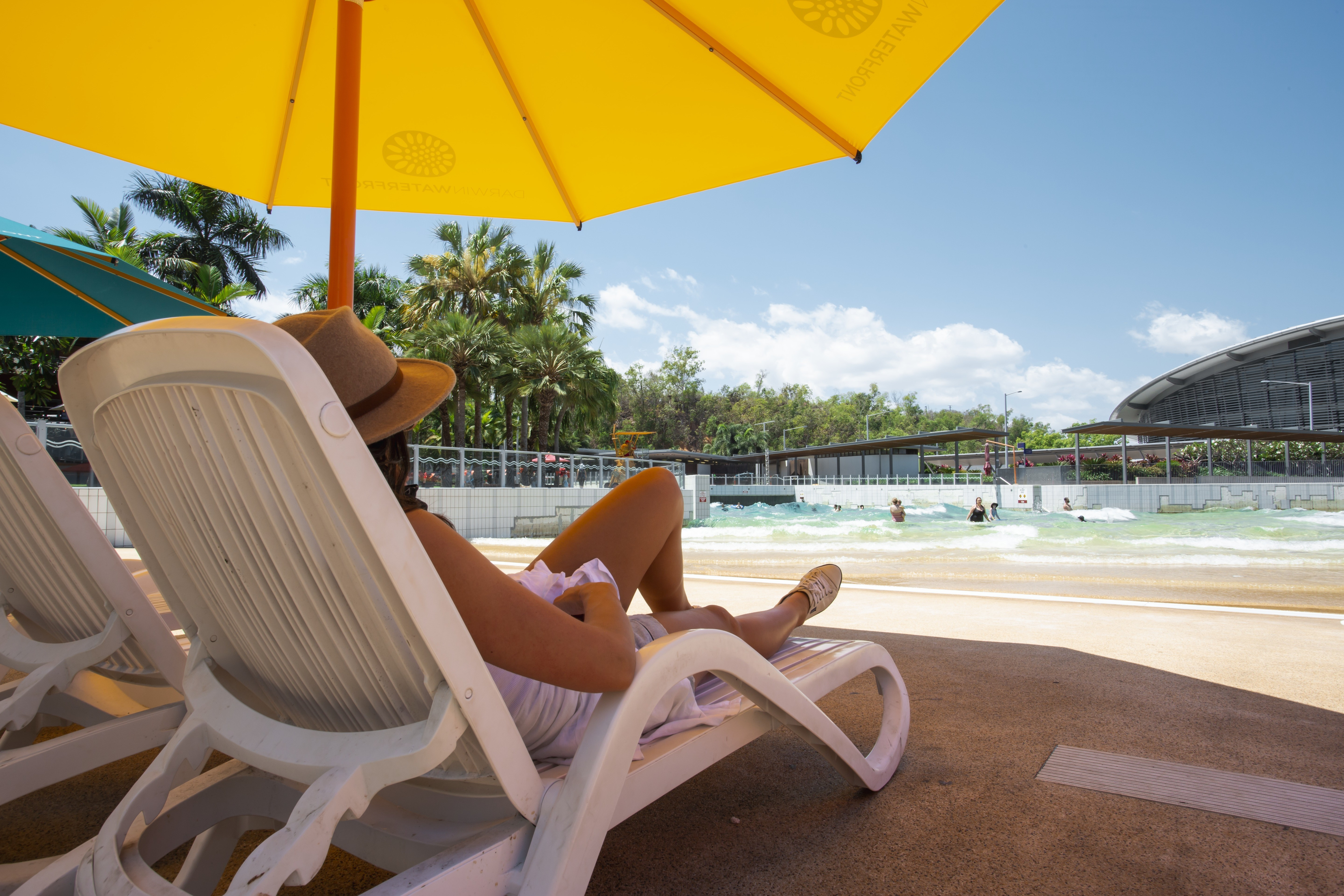 3. Waterfront haven
Darwin Waterfront precinct is the perfect city oasis for waterfront and alfresco dining at one of the many restaurants or cafes. Ride the waves at the always fun man-made wave pool or head to the saltwater lagoon pool for a relaxing tropical swim, sans crocs! Pack some snacks, snag yourself an umbrella and lounge chair or shady grassed area and you are set!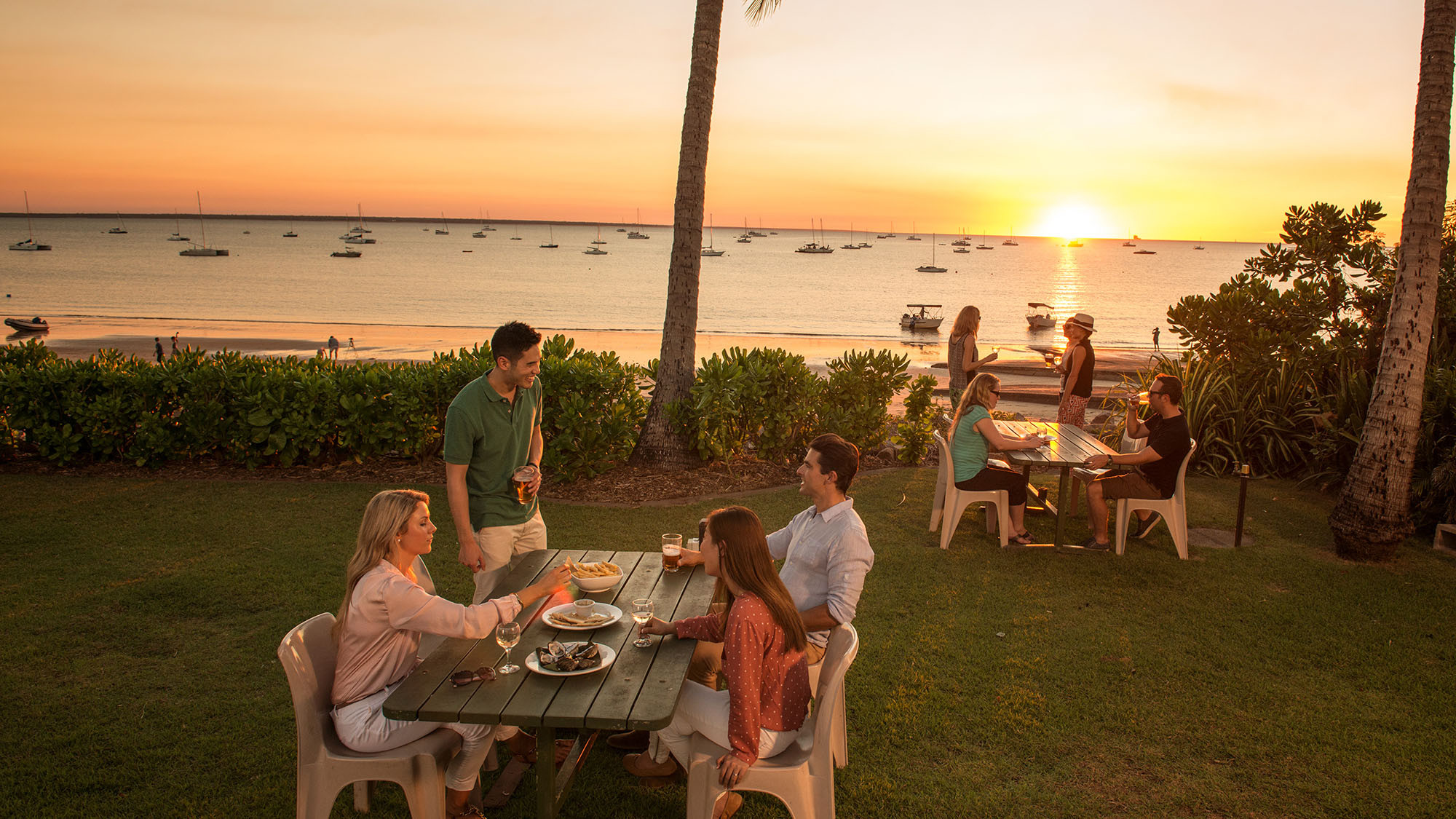 4. Catch a famous Darwin sunset
Sunsets dazzle year-round with a spectacular evening show often put on by Mother Nature. Dry season weather being particularly conducive to enjoying an outdoor sunset dinner and drinks at places like the Darwin Sailing Club or Nightcliff Foreshore. It doesn't get much better.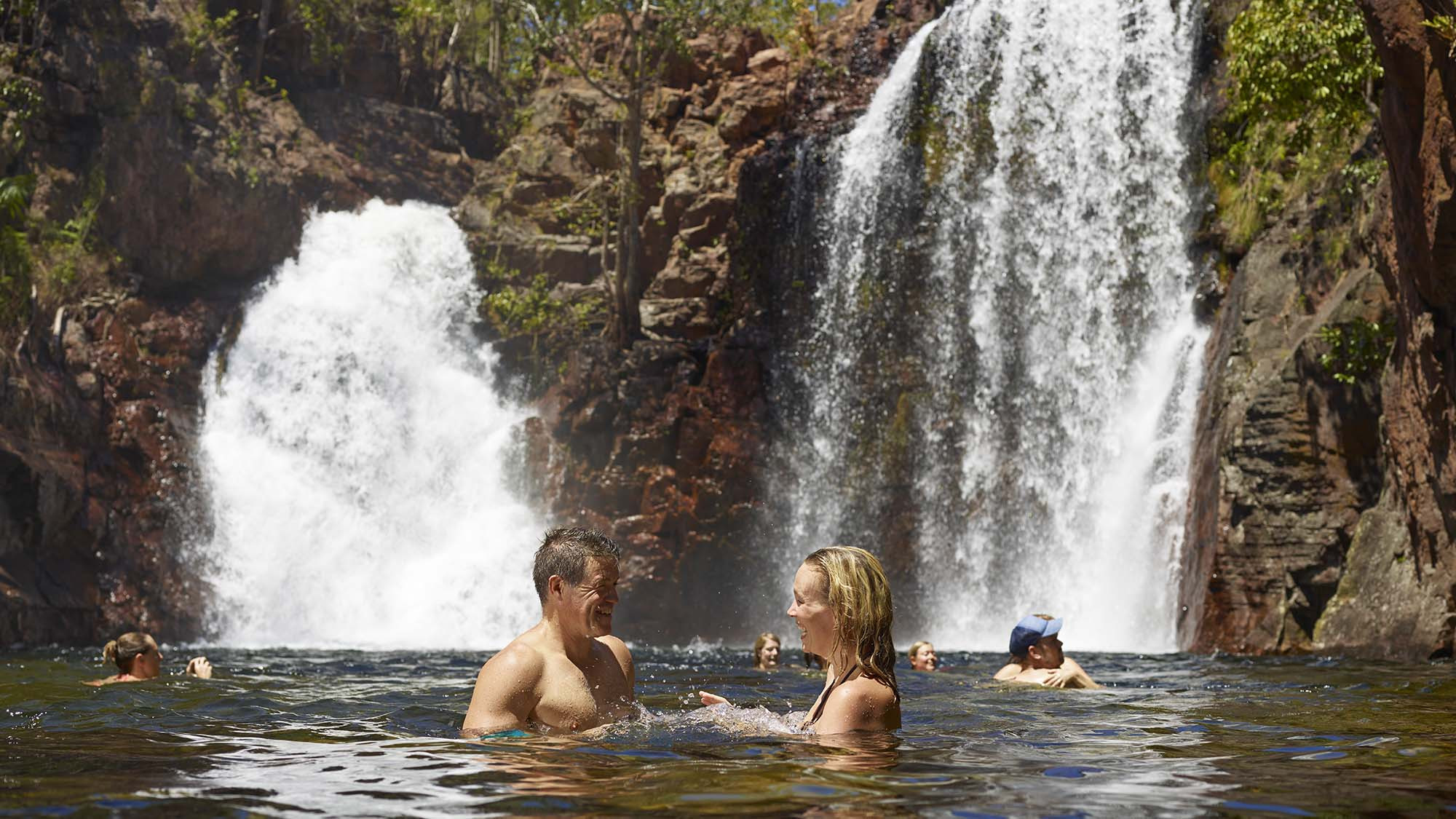 5. A day trip out to Litchfield National Park
Favoured by many locals, especially those without swimming pools, for a fantastic fix of water amid stunning nature and a much welcomed cool off in the rejuvenating, mineral infused waters. With spectacular views from atop and epic 'is this really happening' swims below, the waterfalls and waterholes of Litchfield are an absolute must. Follow the crowd to Wangi Falls, Florence Falls, Tolmer Falls or Buley Rockhole.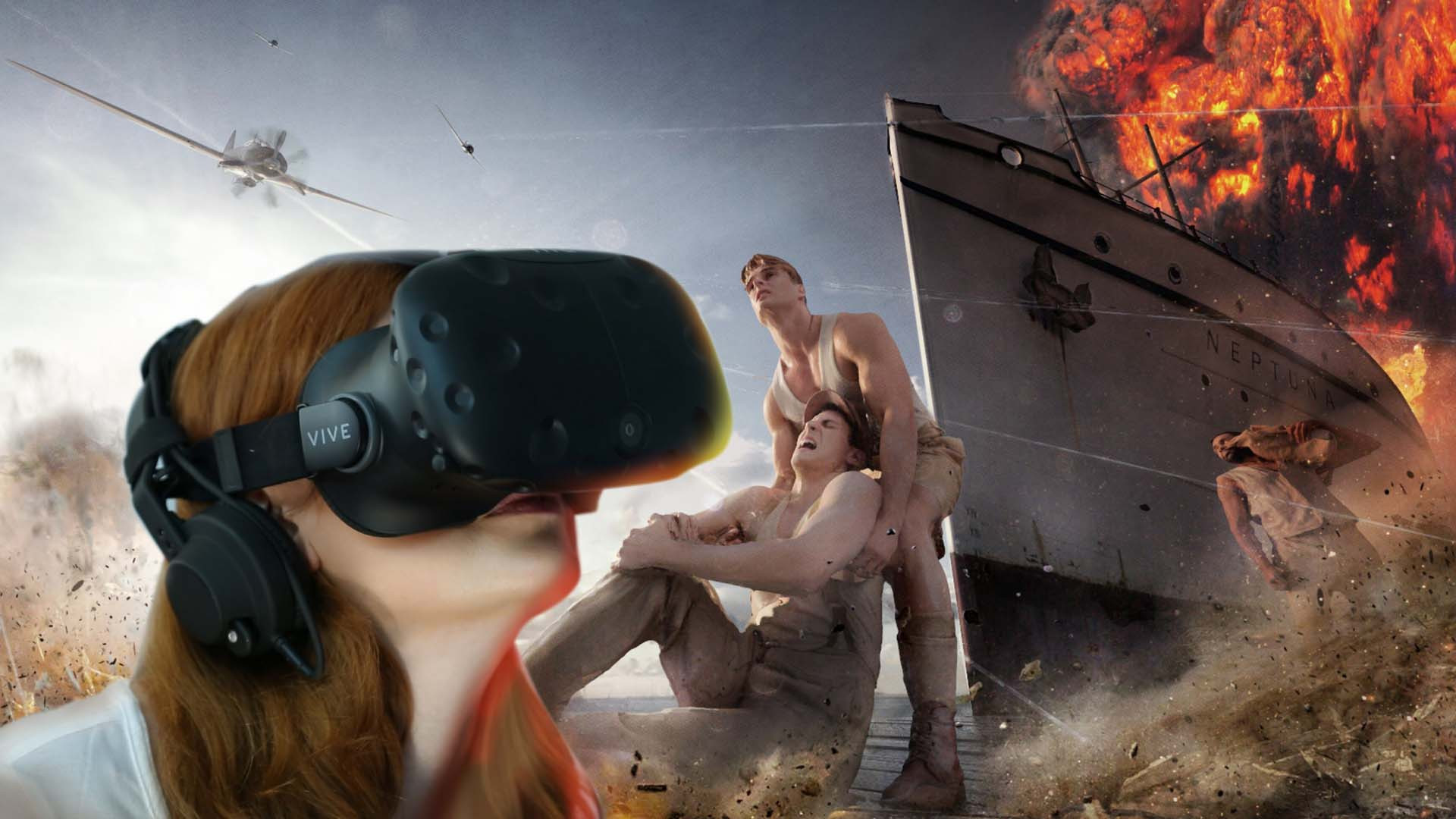 6. Royal Flying Doctor Service & Stokes Hill Wharf
The Royal Flying Doctor Service Darwin Tourist Facility is another must-do while in Darwin, along with the Bombing of Darwin exhibition. Here you can experience two of Darwin's iconic history pieces in the one visit. Learn of the incredible and hugely important work of the RFDS through the decades and hear of the stories through immersive experiences and the pinnacle of virtual reality of Darwin's resilient wartime era. This is all located at Stokes Hill Wharf – a Darwin institution for seaside alfresco eateries and casual restaurant dining.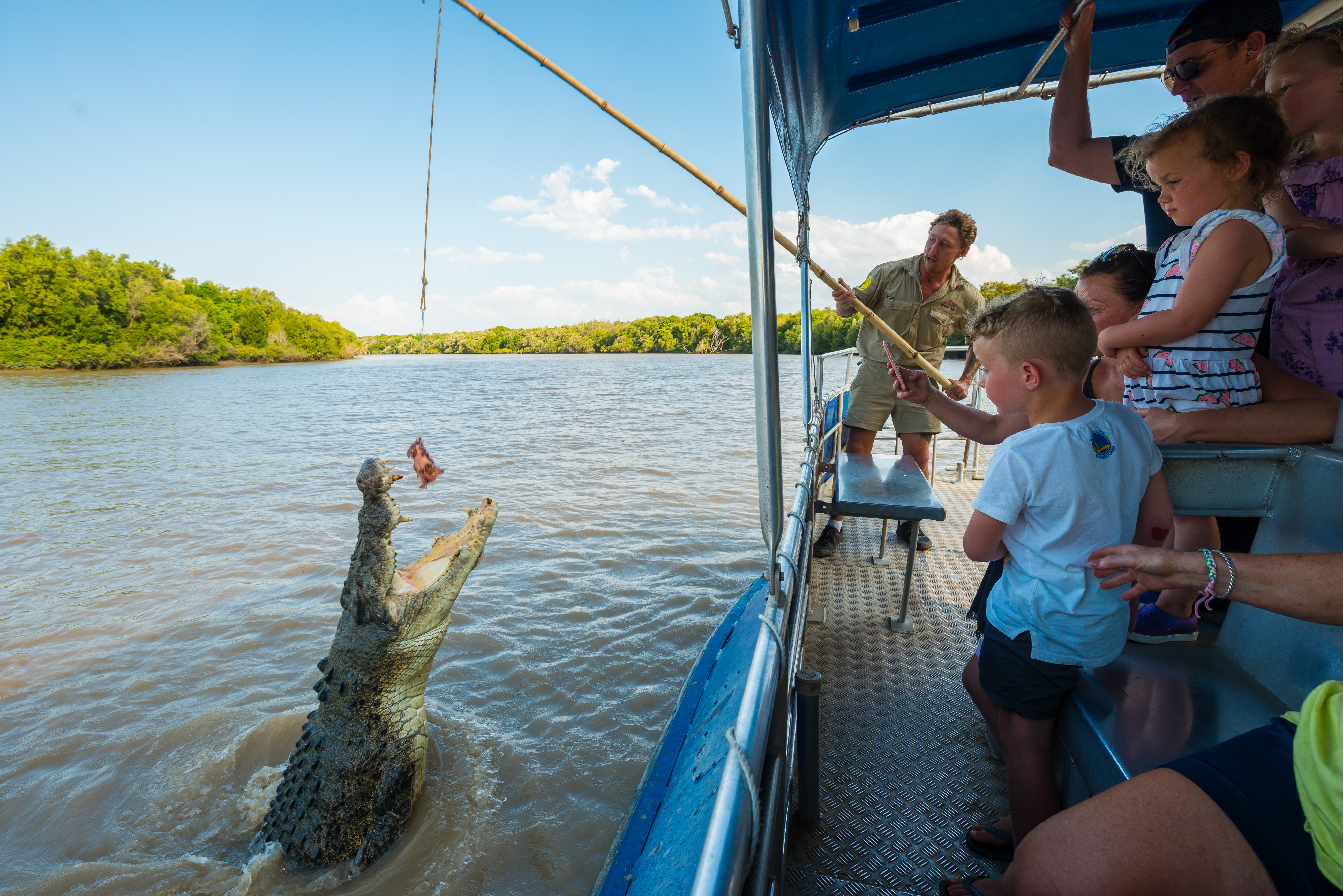 7. Jump on a jumping crocodile cruise
Whatever you do, do not forget your camera or phone, you are going to want footage and evidence of seeing an almost vertical, very large saltwater crocodile, jump from the muddled water ready to take the bait. Again, this is a must do for visitors wanting to get up close and personal, but not too close, to these fascinating, ancient reptiles in their natural habitat.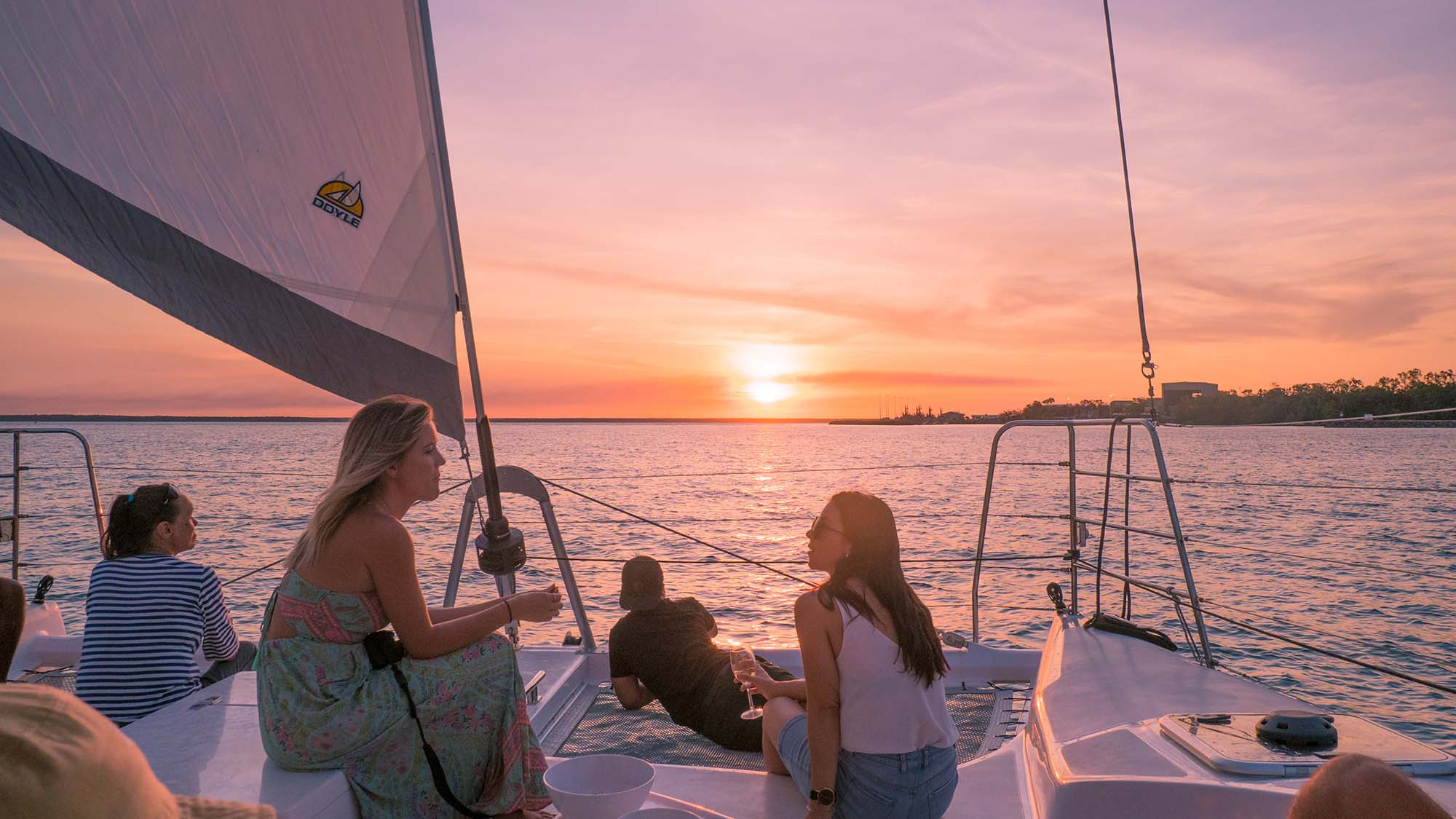 8. Darwin Harbour sunset cruise
Darwin Harbour offers a perfect setting for a sunset cruise, particularly as the deep pinks and oranges light up the sky above and reflect beautifully off the water below. Also a perfect vantage point to watch the peaceful twinkling night lights begin along the city's shoreline and a fitting way to embrace the laid-back Top End life. Add on a sumptuous Territory inspired dinner because, why not? Try Darwin Harbour Cruises or Sea Darwin for an authentic experience.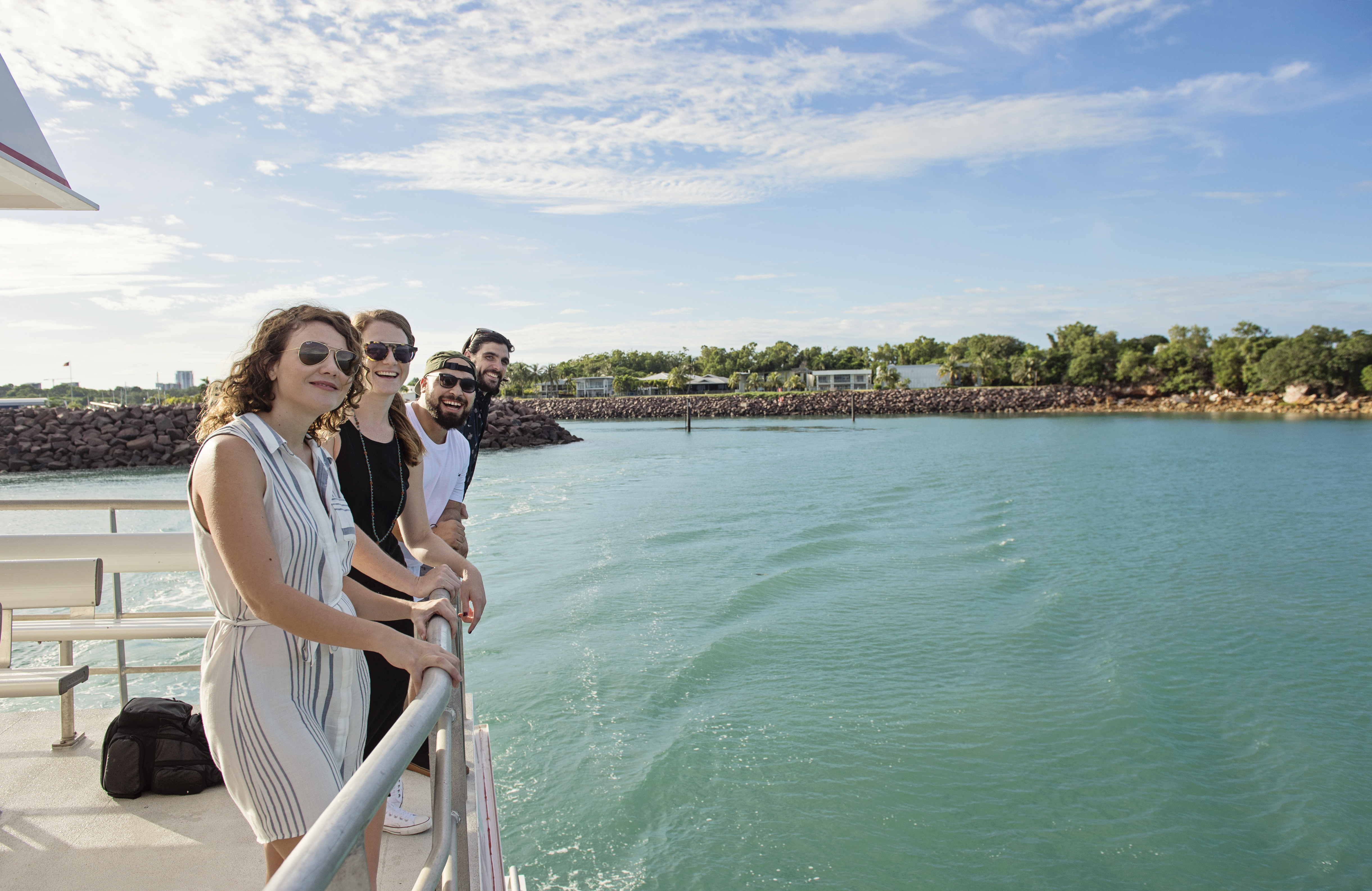 9. A Tiwi Islands experience
The Tiwi Islands are 80 kilometres north of Darwin, where the Arafura Sea joins the Timor Sea, with the main two islands being Bathurst and Melville. You can reach the Tiwi Islands via a ferry from Darwin to Bathurst Island or alternatively take a 30 minute flight from Darwin to this tranquil paradise. Residents of the islands are predominantly of Aboriginal descent resulting in a rich culture and heritage and thriving arts and craft scene. They are an absolutely stunning and unspoilt collection of islands renowned for outstanding fishing, secluded lodges and welcoming locals.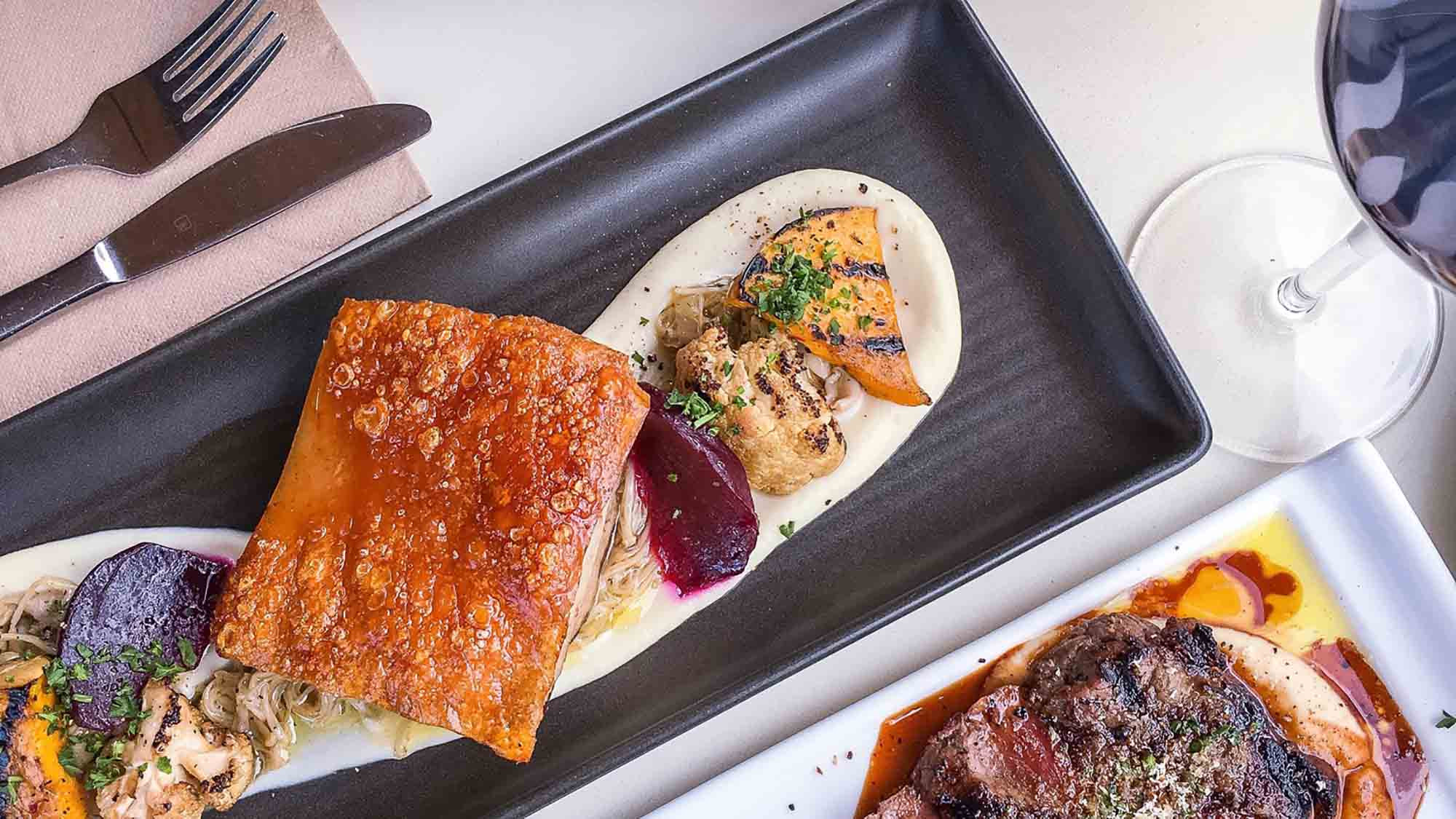 10. Food
With such close proximity to South East Asia and a strong Indigenous culture, Darwin offers an incredible palate when it comes to food. From salt and pepper crocodile, buffalo burgers, the freshest and best local Barramundi to the use of so many spices and flavours from neighbouring Asia, eating out in Darwin is one of the most delightful and unique dining experiences in Australia. Try Hanuman, Hotel Darwin, Pee Wees at the Point and Wharf One Food & Wine to get you started.
Contact one of our friendly team on 1800 854 897 or deals@ntnow.com.au

Image credit: Tourism NT
Explore our featured deals: