Meet Aboriginal artists and watch them work
The Northern Territory's Aboriginal art is sold all over the world and meeting the artists on their land and watching them work is a must-do NT experience. There are art centres spread all over the NT. Visit the three world-renowned galleries on the Tiwi Islands north of Darwin or sit with the Maruku artists near Uluru. You can also join in the many Aboriginal art festivals held all over the NT, like the Darwin Aboriginal Art Fair, Walking with Spirits at Beswick near Katherine or Desert Mob in Alice Springs.
Alice Springs is home to some of the most sought after Aboriginal art in Australia and has plenty of interactive cultural experiences. At the Ngurratjuta Iltja Ntjarra Many Hands Art Centre you can see dot paintings and watercolours on show in the gallery, meet the Aboriginal artists who created them, hear them talk about their paintings, and watch them work. The art centre provides a place for Aranda artists to come together to paint, share and learn new techniques and ideas. Many well established contemporary artists, as well as new and emerging artists, are supported by Ngurratjuta. Their artworks tell many different stories and are completed in a variety of techniques.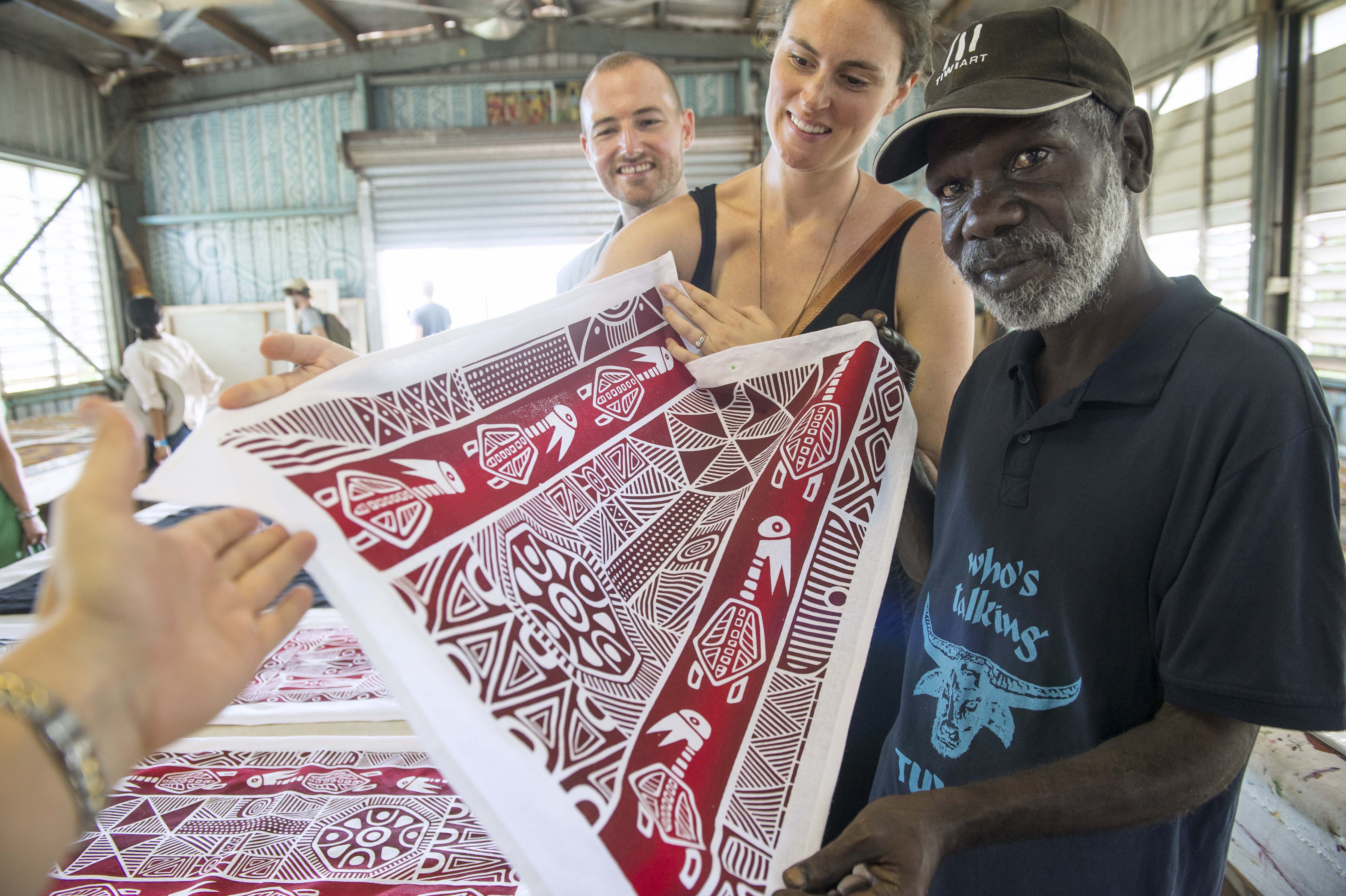 Image: Tiwi Islands Art Sale (credit Shaana McNaught & Tourism NT)
The Museum and Art Gallery of the Northern Territory
The MAGNT covers a range of topics, installations and activities including engaging interactive programs, maritime history, palaeontology, an ever-growing collection of Aboriginal Art, a vast natural science collection and a display regarding Cyclone Tracy's devastating impact. They provide a whopping collection of over 1.2 million natural history specimens and over 30,000 items of world-class art and material culture.
As the MAGNT has curatorial expertise in palaeontology and marine taxonomy and systematics, which are underpinned by substantial collections of the Northern Territory, their exhibits are some of the best in Australia. The Natural Science Collections are a permanent and accessible record of the animals found within the Northern Territory and adjacent seas with specimens ranging from those found in the arid centre to the tropical north, from tiny insects to large whales.
The memory of the devastating Cyclone Tracy is still strong in the city, and there's a breathtaking display of the cyclone's impact at the Museum and Gallery, including the infamous 'sound booth'. Having been rebuilt after the war, Darwin was devastated again in 1974 when Tracy struck, killing 71 people and wiping out most of the city's buildings.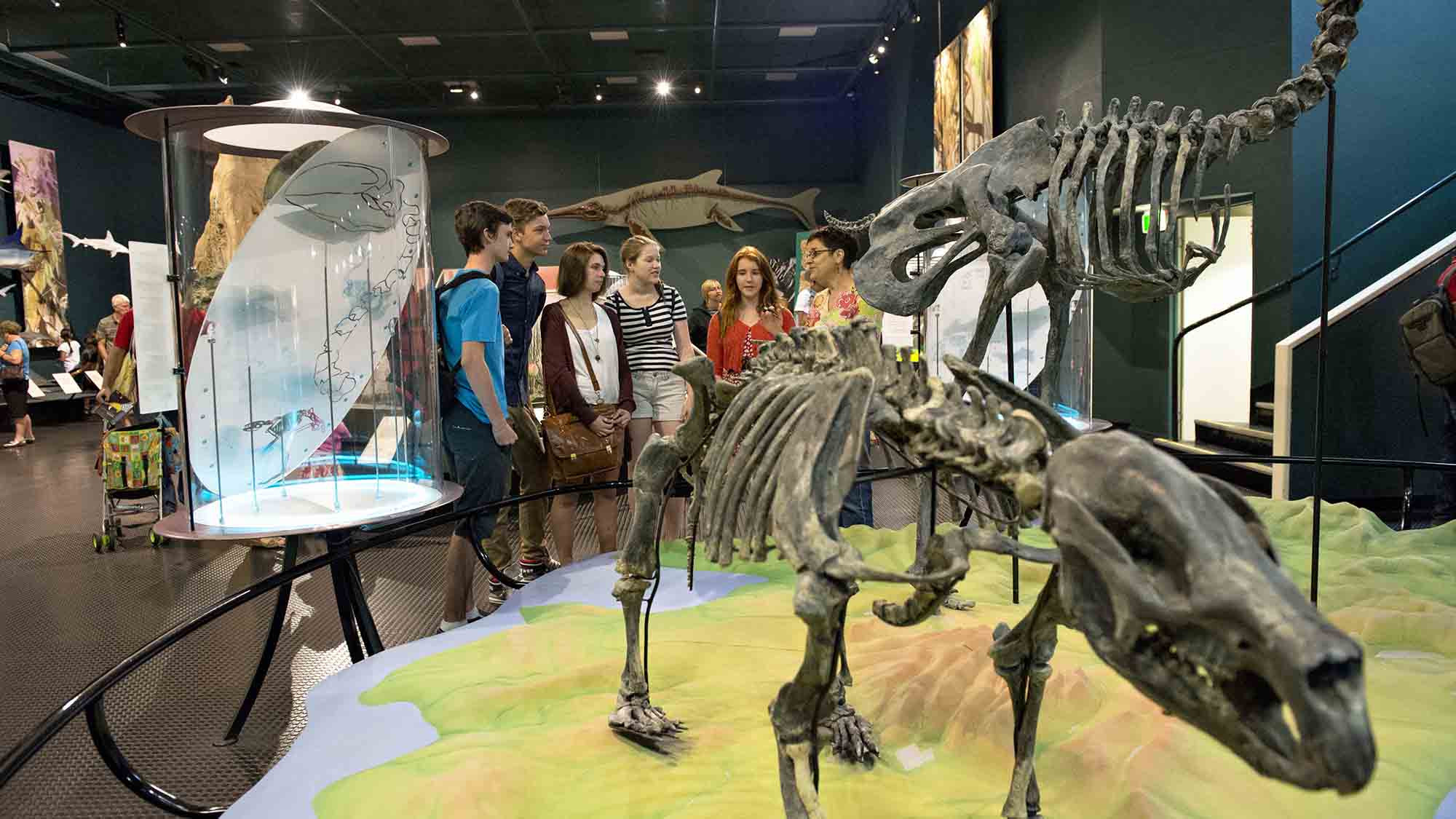 Image: Museum and Art Gallery, Darwin City (credit Shaana McNaught & Tourism NT)
Discover some of Alice Springs' many art galleries
Known as the keeping place of stories, Araluen Arts Centre holds some of the most significant works of art in Central Australia and brings to the stage world class performances from around the nation (and at times the world). The Araluen Galleries showcase the beginning and continuing development of the Contemporary Aboriginal art movement, particularly of Central Australia and the Western Desert Region as well as significant local contemporary artists in their response to place. The Araluen Art Collection includes original artworks by renowned watercolourist Albert Namatjira and his artistic response to the Central Australian landscape, displayed in rotation in the Galleries, which themselves are only minutes from the spectacular West MacDonnell Ranges and the country that gave his work birth.
The only contemporary experimental art space in Central Australia, Watch this Space has been successfully running for over 24 years. The gallery works as a catalyst and conduit for conversations and experiments in the always evolving languages of art and supports contemporary art dialogue in Mparntwe/Alice Springs both inside and outside a gallery space, encouraging, nurturing and promoting Central Australian and visiting artists.
Located in the very centre of Alice Springs, Mbantu Fine Art Gallery is one of the most popular galleries in the town, especially for tourists. The gallery represents over 200 local artists from the Utopia region (North-East of Alice) and you can find a range of works that range from smaller prints and detailed jewelry to larger canvases. The Gallery is also the perfect spot to grab some gifts with it's own range called Utopia Giftware, which includes knickknacks like wine coolers and notepads that are decorated with unique Aboriginal designs from local up-and-coming artists.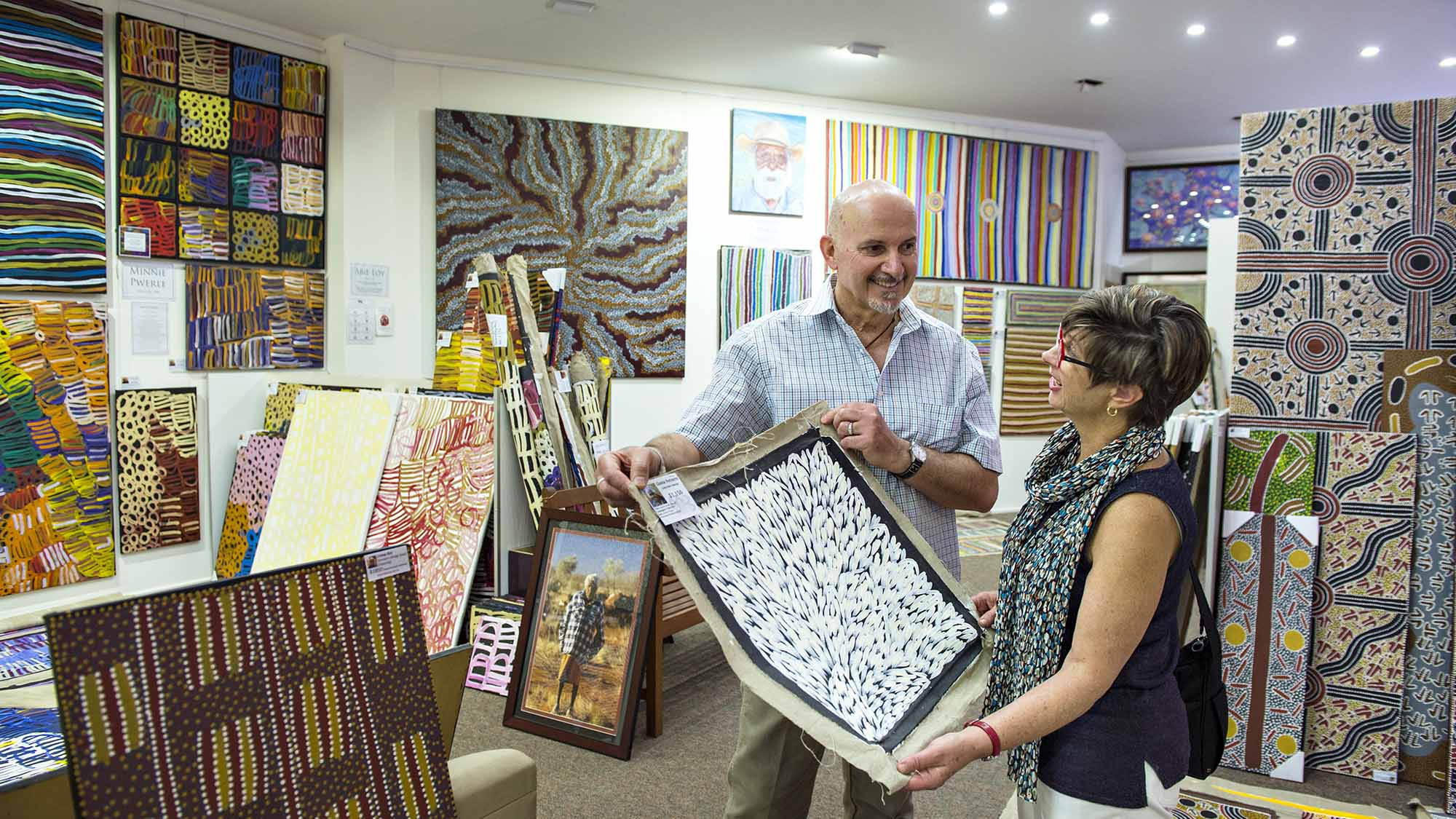 Image: In awe of the talent on display at Mbantua Fine Art Gallery and Cultural Museum, Alice Springs (credit Shaana McNaught & Tourism NT)
Experience ancient Aboriginal rock art in Kakadu National Park and Uluru
See for yourself why Kakadu's rock art is world class and one of the reasons for its dual World Heritage status. Visit Kakadu's rock art galleries at Ubirr, Nourlangie and Nanguluwur and see their fascinating record of Aboriginal life over thousands of years. You'll see images of animals, Dreamtime figures, traditional x-ray art and paintings of early contact with European people. Some paintings are 20 000 years old. Join the free guided walks that run in the dry season.
On guided walks around Uluru you'll discover many examples of Anangu rock art including near the Mutitjulu Waterhole, home of an ancestral water snake called Wanampi, where you can also view caves still used today by the Traditional land owners containing historic rock art. These guided walks also include the retelling of dreamtime stories of the Anangu people by your experienced guide as well as information about the local traditions and practices.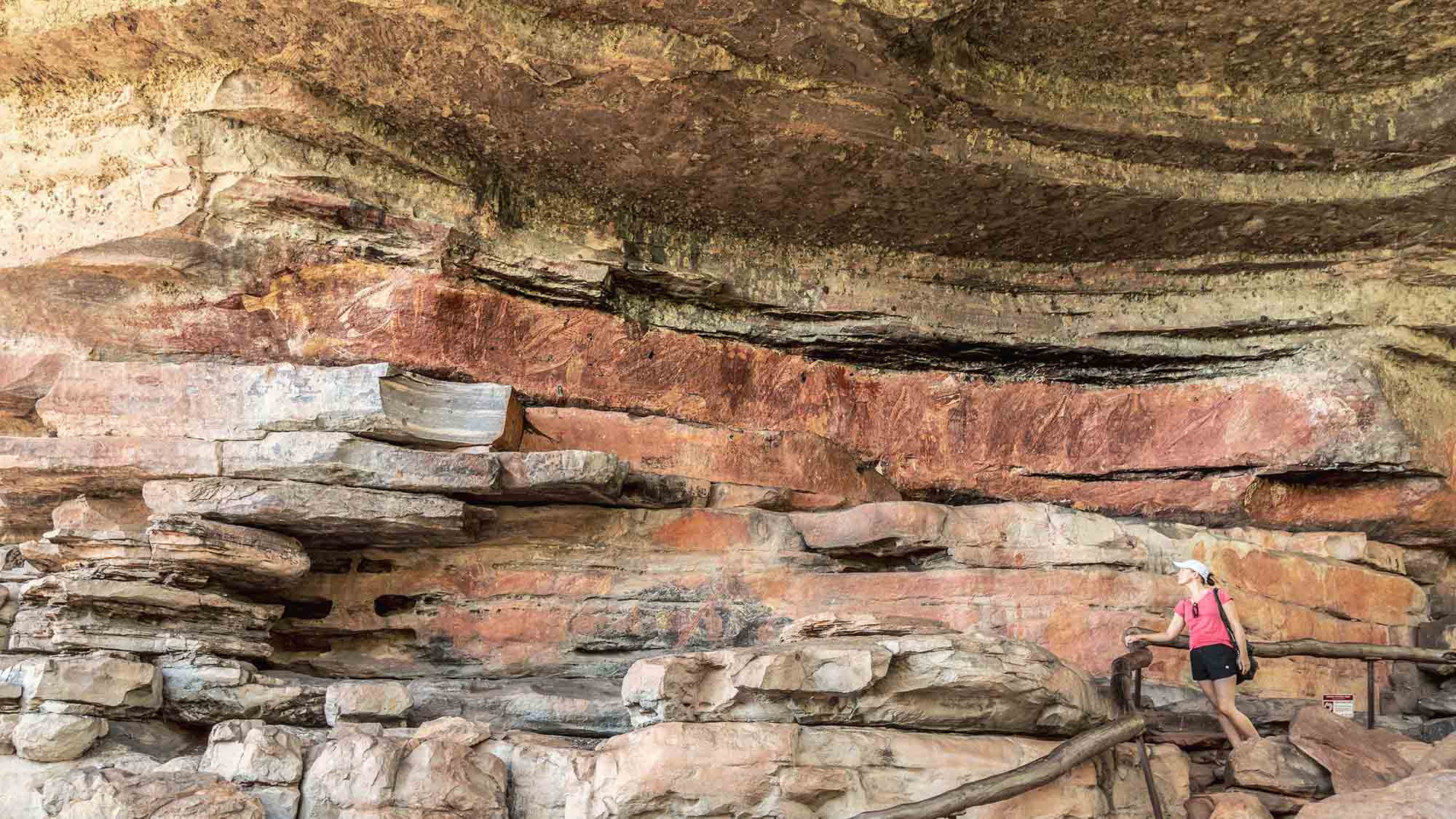 Image: Aboriginal Food Gallery Rock Art at Ubirr (credit Michael Costa & Tourism NT)
Explore our featured deals: